So we were kicked off the bus. That's great. It's 5:45 in the morning and the sun isn't even up yet and I don't remember the last time I was up this early (without staying out this late). It's chilly. Wandering with our backpacks from the bus to the seaside, we shiver as the wind blows off the palm trees and rustles the dried leaves on the desolate road. With yesterday's mascara smushed under our eyes, hoodies over our heads and fingers shaking from the cold, we've been unleashed on the empty streets of Taşucu like delirious zombies on the dark side of dawn.
It had been our plan to go straight to the ferry dock and hop the 11am ferry from to Girne, the port in Northern Cyprus.
But there was a slight problem with this plan.
"Today ferry no," says the man at the wharf to the tribe of zombies.
Oh good.
Taşucu was never on our list of places to see. Wikipedia doesn't know anything about this place. Neither does Google, for that matter.


So what to do? We do what any rational people would do at 6:30 in the morning on some idle Tuesday the middle of somewhere that is closer to Iraq than Europe. We go to a 4-star restaurant and order a plate of tzaziki and a round of tea. Heads bobbing as we fight sleep, we force our eyes to follow the images moving across the Turkish television in a battle to keep them open. We sit, we battle, we wait. We wait and we wait and we wait for what seems like four million hours and finally the ferry ticket office opens. "No ferry today," confirms the ticket man. "Ferry tomorrow."
I don't know why we didn't believe the man at the wharf in the first place, but it probably had something to do with ignorance and irrationality and a desire to prove him wrong. But faced with this new reality, we wander down a narrow alley covered in loose rock and bright blue graffiti. There's a plastic bag stuck in the branches of an orange tree as we make our way we-don't-know-where. Up some broken steps to a spanking-clean and modern-looking hotel. Cheap cheap. Surprisingly cheap. We check in. And then we sleep. And then we sleep all day.

A blessing in disguise doesn't even begin to describe how amazing it was that our time in Taşucu was extended. A quaint little broken-down town, this area of southeastern Turkey was never on our list of places to see. Wandering around the sleepy seaside, palm trees playing in the wind and boats gently rocking in the harbour, we quickly fell in love with the village. Walking onto a ship at the wharf, we order a round of Efes and a fish to share as the sun sinks into the hills. Our fish was pulled, alive, from a deep net beside the boat and cooked to order… then served in a sandwich? Strange, but who am I to judge.

And thus began our "appy-crawl". Wandering from random establishment to random empty establishment, we were welcomed warmly by several smiling Turks, asking us what in the world we were doing in Taşucu. We spent hours over appies discussing how wonderful it would be to own a place here – far cry from our mentality when we first arrived. Then we bought a whole bunch of random things from a Turkish convenience store…

The night ended when we noticed a fine display of Turkish delight and baklava in a window at the front of a white-washed shop. The gentleman behind the counter, small in stature with a scar on his face and smiling behind broken teeth, motioned for us to come inside. He brought us çay (tea) and several more turkish delights, and before long a couple of other men were sitting around our plastic table and swapping stories with us in cracked English.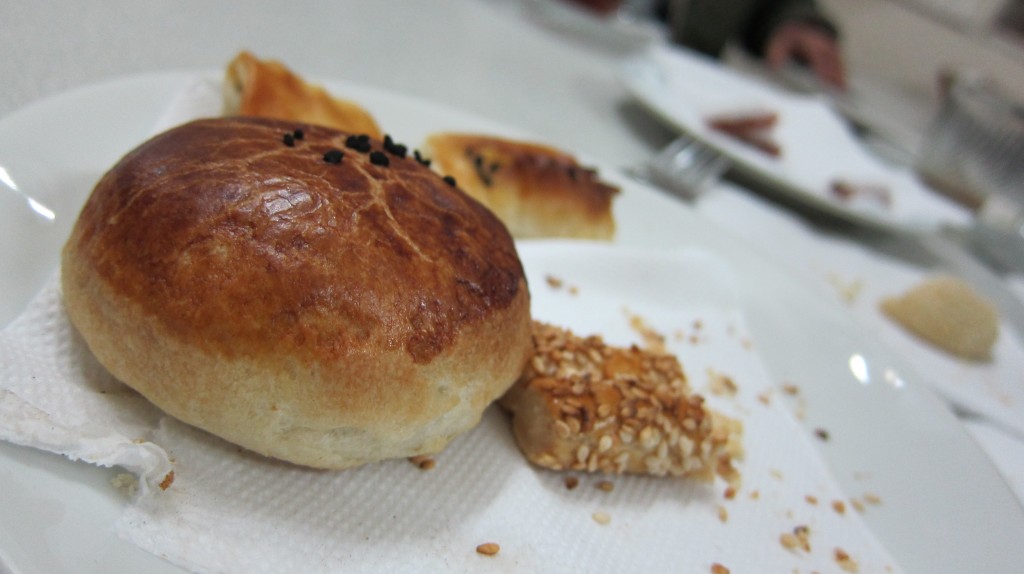 We retired to our room, happy and full and excited for our ferry to Cyprus in the morning. And then we snuggled up on the bed and watched an episode of Modern Family before calling it a night. When in Turkey?
The morning was brilliant and beautiful, and we had breakfast on a lonely patio in the sunshine as the restaurant owner blasted David Guetta at such a volume that it made our heads hurt. There was a brief moment of panic when we thought our ferry was leaving without us (it should be noted that we all continued to drink our coffee and do nothing about it)… and then the restaurant owner returned from the store (yes, he had to go out to buy groceries for our meal) and served us what we thought was a delicious breakfast……
… little did we know that this was actually the final moment before we were to be poisoned.
It's a good thing there wasn't anything else to do in Cyprus.