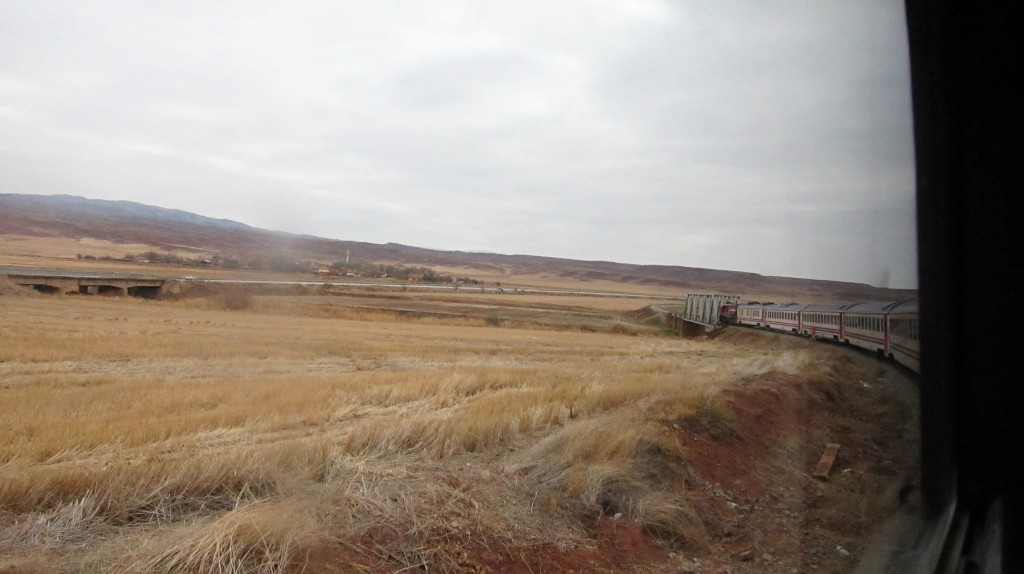 So remember how the arrival time on our tickets said 9am? Well it was a bold-faced lie. We didn't arrive in Kayseri until 1:00pm, and the guy who was supposed to meet us at the station had obviously given up and left hours ago. We stepped off the train to zero degrees under clear skies. After doing a once-over to make sure Kamil wasn't there, we considered our options and hopped into a taxi for the Kayseri Otogar (bus station). Overwhelmed by kiosk upon kiosk of different bus company all trying to sell the same tickets to anywhere, we settled on one that seemed to speak the best English. Actually, he spoke English so quickly that we all had difficulty understanding him.
Me: "Can you speak slower please, I don't understand."
Him: "Do you speak English?"
Yeah. Anyway. ;) We bought some tickets for Göreme and had an hour to kill, so we ordered lentil soups and shared a chicken kebab plate at one of the train station restaurants. Charismatic and charming, just like all the other Turkish men we've met, our waiter gave us excellent attention and preferential treatment.

We boarded the bus (it's about an hour ride to Avanos, and then a further 10 minutes by local Dolmuş to Göreme). We passed an impressive volcano on our left side which had no visible connection to earth and appeared to be hanging in the sky.

My jaw was on the floor as we approached Göreme. Never in my life have I seen such extraterrestrial housing. Homes – no, caves – carved right into the rock. Phallic sculptures, giant rocks in the likeness of penises rushed past on the left and on the right. Where ARE we? And then the bus came to a stop in the middle of a town surrounded by what I can only liken to a moonscape. Absolutely without a doubt the most awe-inspiring terrain I have ever seen in my entire life. Surreal, alien, absurd. Like giant stalagmites rising from the depths of the earth. Belittling. Fascinating. Wonder-evoking.

For those of you who are interested, this moonscape is a result of the surrounding inactive volcanoes that, over millions of years, deposited a thick layer (1500 feet) of volcanic lava, ash, and mud. The material hardened to form a soft volcanic rock. With the passing of time, rivers began to carve steep gorges on their way to the marshes of a salt lake, leaving behind the expanses of flat, basalt topped plateaus that characterize this region. Further erosion of the basalt layer expresses itself in this surrealistic moonscape of Cappadocia.

Breakfast this morning was a delicious buffet of cheeses, meats, olives and bread. A pot of baked beans. Tomatoes, cucumbers, thick Turkish yoghurt. "Paradise Pension", with a view stretching for 360 degrees in every direction from the rooftop terrace and windowed lounge/breakfast room. As if this glass cased room was perched atop the moon. Absolutely breathtaking.

Wandering into a shop selling all sorts of gimmicky touristy things was our ticket to success in Göreme. Meg struck up a conversation with one of the shop owners, and before long he offered to take us around in his own car to see some of the sights of Cappadocia.
We started in Pigeon Valley where it was explained that people used to collect pigeon droppings here for use as fertilizer. Hundreds of thousands of pigeons were chillin' on the rocks and pooping away. In the cave dwellings across the valley we could see where the "pigeon houses" used to be. Very interesting! Also, a Viagra booth. Just in case.

We went to the underground city of Kaymaklı, complete with a church and a confession box. Feeling a bit like we were inside ant tunnels, we wove our way down four floors of hidden civilization, where the Christians once lived to hide from persecution. These subterranean towns which are hidden everywhere in this region extend 7 and 8 levels into the earth, carved from soft volcanic stone.


It was absolutely incredible, this place. It wasn't damp, it wasn't cold, it wasn't dirty. The whole city is carved out of this stone and it seemed like it may have been a relatively sanitary place to live, considering the circumstances. So rad. Like walking through a giant sponge.
And then our new friend took us to more "modern" city. Not really sure what's modern about it, although I suppose it is substantially less spongy?

Lots of great sights. And as the sun sunk into the extraterrestrial horizion, we took a few pics, did a little dance, and called it a day.
Our final evening was spent in a cute Turkish lounge-type restaurant, with richly coloured canvas on the walls, hookas, and low tables, where we removed our shoes and padded on the decorative carpet to a corner of pillows and made ourselves comfortable behind the wood burning stove. After a dinner that was… eh, mediocre (though the baba ganoush and vine leaves were out of this world), we got ourselves ready for our night-bus in the shop of our new friends (and Thiel's fiance – he's slightly in love with her, it's revoltingly cute).

And now we're on the bus headed for Antalya. It's really f'n dark outside. And I'm really f'n tired.
Gonna get drugged up on melatonin and get me some sleep.
Goodnight! (Yakshamlar). ;)