After paying too much for a mediocre dinner on the quiet winter streets of old Istanbul's Sultanhamet area, we hopped in a cab in search of something less mediocre and more awesome.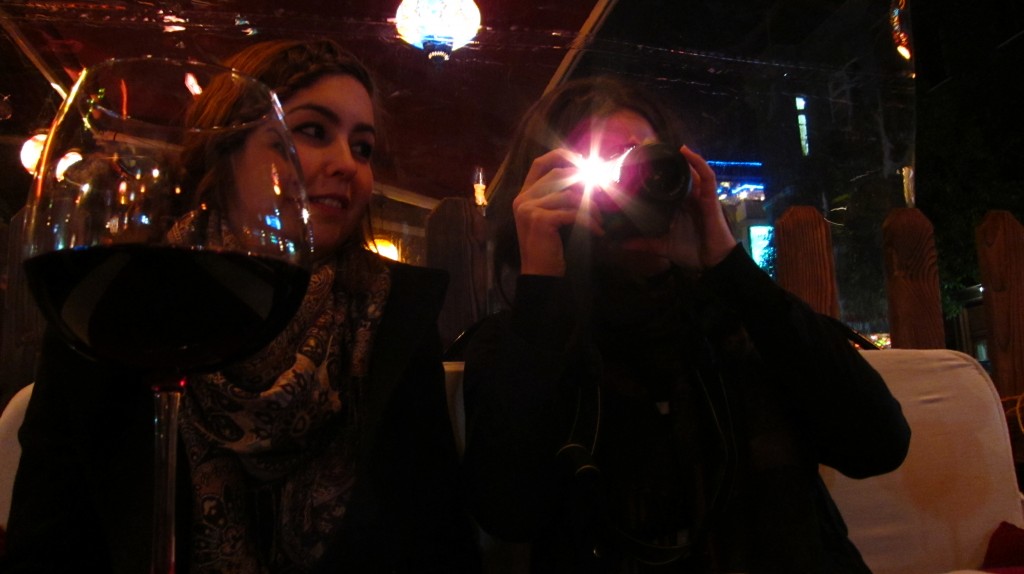 An adventure to Taksim is what happened. Under the bright lights of Istanbul's extraordinary skyline, our yellow taksi made its way through horrendous traffic and over a bridge swarming with midnight fishermen ("fishing is like poker in turkey", it has been explained).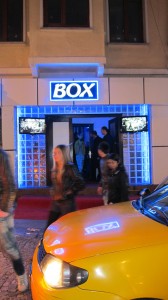 A pedestrian street with too many pedestrians. Bright lights, music blaring from underground clubs. Street vendors selling rice-filled mussels with lemon, and roasted chestnuts under little awnings of red and white stripes. A club named Box. "It's our friend's birthday and we can't get into the club without girls… join us?" And we were upstairs, dancing to Turkish lightbulb music on a floor that was decidedly bouncy. Many a dance with a Turkish man. And then onwards. To an underground club so full of people you couldn't turn around without brushing against 300 of them. Seizure lights on the dancefloor. And onwards again with a new Turkish friend, to an upstairs pub with 3TL pints (a dollar eighty, folks). Thoughts of calling it a night. Thoughts dismissed. Onwards again, and then onwards again to a Pide Restaurant. Delicious decision. 5:30 am, cab ride home. Got lost. Then found. In the door at 6:30am. Saturday night in Taksim.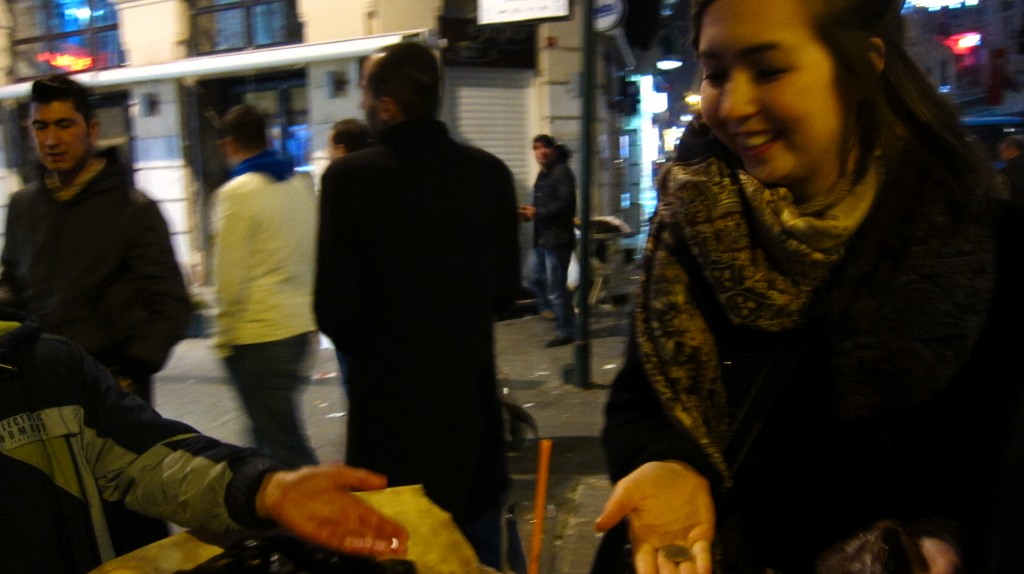 We slept through breakfast. We slept through checkout. We slept through til 1pm, and only emerged because we had to move to catch a train.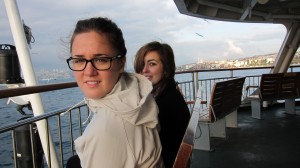 This train is scheduled to depart the Istanbul Haydarpasha station at 4pm and arrive in Kayseri at 9am (Kayseri is about an hour and a half away from Goreme, one of the main cities in the Cappadocian region so we're pretty excited!). But seventeen hours on a train, and there's no restaurant, food cart… or babushka to be seen? ;)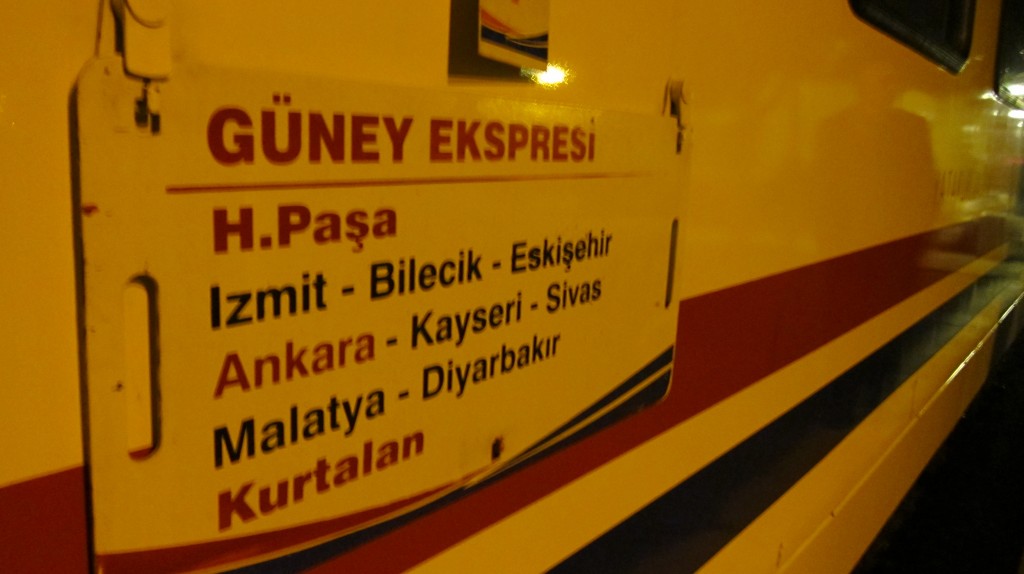 A beeline for the train station concession stand. Throwing in handfuls of whatever we can find – nuts, simit (round sesame-seed hard bagel type Turkish concoctions), chicken donairs and bottles of water. The train leaves at 5 minutes after 4pm.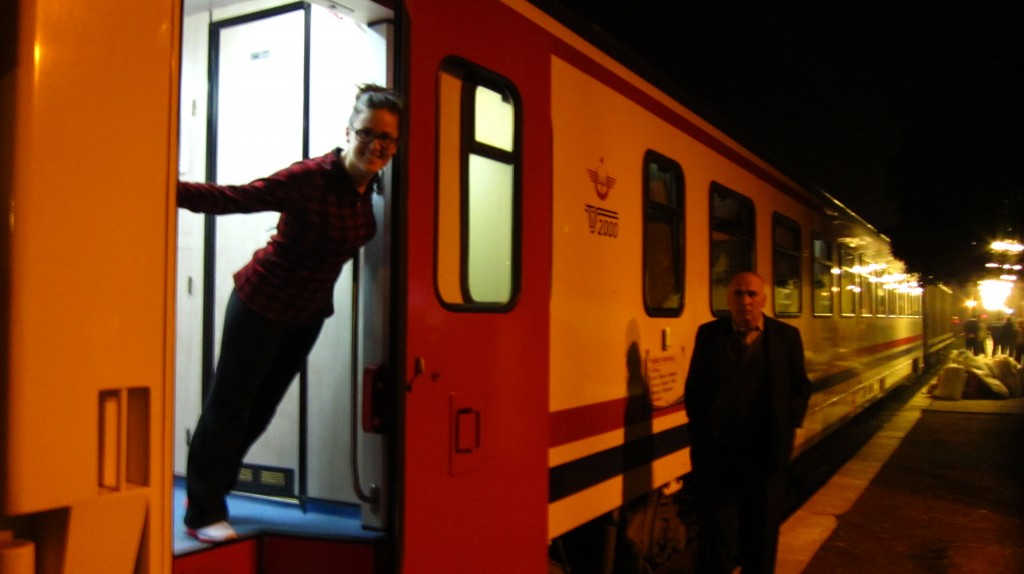 Two beds to a room. A real ladder to reach the upper bunk. A sink, a mirror, a fridge! We settle into our home for the night, pulling down the top bunk, spreading out the goodies we've bought (and received! My Mom sent me a few birthday treats), and setting up the computer for an evening of movies while the train takes us southeast through the Turkish wilderness.
It's a clear night; the stars are hanging like diamonds. We're told we'll arrive "sometime between 9 and 11am". Thanks, that's not vague at all. And also they definitely don't announce the station stops (I'm hoping for some luck on this one in the morning). Meg and Nicole are asleep in the next room over… Goodnight! Let this train take us onwards, to the middle of Turkey..? :)