After leaving Lake Baikal, Sal and I spent some time exploring the city of Irkutsk. In fact, we nearly missed our train for Moscow because we had so much fun here. More on that later. For now, here is why I think you should visit this Siberian city!
1.

For the windowed convenience stores.
These tiny, compact stores line every major street in Irkutsk. Everything that's for sale is on display behind a thick wall of glass. It's the only way for the attendant to keep warm in the bitter cold of the Siberian winter. See something you like? Knock on the window to point and pay.
2.

For the close proximity to Lake Baikal.
Irkutsk is conveniently located about an hour away (by car or bus) from the shores of Lake Baikal – the oldest and deepest freshwater lake on our planet. It's home to several biological oddities, too – like the freshwater seal! And besides that, who doesn't want 25 extra years of life? If you haven't already, check out my posts on this amazing lake:  1. Lake Baikal: Earth's Most Ancient Lake ; 2. Waters of Supernatural Power.
3.

For the traditional Siberian wooden homes.
You can spend an entire afternoon walking the streets of Irkutsk and not come across two homes that are alike. This city is comprised almost entirely of old, traditional Siberian houses, and each one is completely unique. They often have bright, carved shutters that contrast sharply with the dark wooden exterior. Most of them are falling apart, but that's part of the allure. Some of them even look as though they're sinking into the sidewalk.
4.

For mayonnaise on your salad.
Of the two salads I ordered in Irkutsk, each came to me slathered in mayonnaise. Which, believe it or not, is exactly how I like it!
5.

For the fat pigeons.
I have never in my life seen fatter pigeons. Anywhere. Siberia wins the fat pigeon contest. By a landslide. These things are so huge I'm surprised they can fly at all. That being said, I don't think I saw a single one take flight. Waddling seemed to be the popular method of transport.
6.

For the Russian Orthodox churches.
They're just striking. Old wooden homes juxtaposed with these towering masterpieces of Russian architecture. I don't usually like looking at churches. I mean, once in awhile, yes. But these ones are simply extraordinary. There are a handful in the downtown core of Irkutsk. Explore.
7.

To re-stock your library.
Having spent days on the train and a ton of time in the middle of Mongolia's Nowhere, Sal and I had devoured our reading materials ages ago and hadn't yet found anywhere to re-stock. Knowing we were soon to be faced with a five-day train-ride from Irkutsk to Moscow led us to devote an entire afternoon to finding something (anything!) written in English. We searched Irkutsk high and low. We checked magazine stands, newspaper kiosks; we went into every store that looked like it might have a book. We couldn't find any, anywhere! But they were there, and it's only because of reason #8 that we were able to find them…
8.

For the friendly locals.
Struggling to find a store selling English novels, Sal and I headed to the University of Irkutsk as a last resort. You would figure, wouldn't you, that a university would have some selection of English novels. Wouldn't you? We walked around for – oh, I don't even want to admit how long – before I finally stopped to ask a student if she could speak English. She shook her head, no. But she was smiling. And she paused for just a second to listen to my query. I mimed reading a book, then pointed to my hand that had become a page. "I need one!" I said. Her eyes lit up – she understood! "Just a minute", she mimed by raising an index finger in the air, and got on her cell phone. We stood there for a few minutes as Russian banter was thrown through the telephone lines. She then handed her cell to me, and I spoke in English to the girl on the other end, who managed to translate for our new friend that we were looking for English books. So what did our new Russian Friend do? She got on the phone with another friend who provided her with directions to the bookstore. This whole process took at least 20 minutes and involved a lot of awkward smiles, but eventually Russian Friend led us outside and across the campus, to what was clearly a back-door of some sort, located around the corner of an inconspicuous building, down some stairs and into a brightly lit hallway. Down the hall, third-door on the right. Voila! Three shelves of English books! Never, ever, would we have been able to find this on our own. It's amazing how a little help from a local can go a long way. Without her, our pending 5-day train ride would have been a lot more challenging (as if it wasn't going to be challenging enough already!).  I bought "The Master and Margarita" – I've always wanted to read it and what better place than Russia to do so?
9.

For the kitschy pubs and the tabby cats.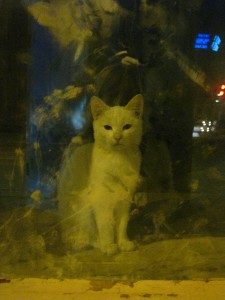 We barely made our train on time because we'd fallen so comfortably into a couple of chairs inside the most kitschy of all kitschy pubs, and we couldn't get up. There was a random tabby cat inside the pub who just kind of climbed all over us. I don't even like cats, but this one was pretty cute. And here I thought cat cafes only existed in Korea.
10.

To eat Baskin Robbins in another language.
Because it's more delicious when it's foreign. ;)
11.

Because it's more relaxed (and cheaper!) than Moscow and St. Petersburg.
Nestled in the heart of Siberia, this Russian city lacks the pomp and wealth that is so prevalent in the west of the country. It's cheaper here, and I found the people to be friendlier – more laid back. Not to mention everything is just more affordable.
12.

For the markets.
Despite the dead of winter and the bitter cold wind, Irkutsk is full of outdoor markets selling everything from vegetables, to underwear, to camels? Bundle up for the icy temperatures and spend an afternoon strolling through the markets. I bought a pair of the thickest, warmest woolen socks known to mankind here.
13.

For the fur hats!
No trip to Russia would be complete without experiencing the obsession for fur hats. I'm certain there is nowhere else on this planet that has a better selection of fur hats than Irkutsk. Every sort of fur hat. Ear flaps, head bobble, tall and sturdy, in shades of violet, you name it. So many fur hats, it would mystify absolutely anyone.
14.

Because you can!
And isn't that reason enough?! ;)