"Looks cold out today," mentions Sal at breakfast.
"Nyet. Not cold. Zero." says Rita, all matter-of-factly.
Right. Of course. A balmy zero degrees.
Breakfast on our last day in in Listvyanka was prepared by Rita, the kind-hearted Russian woman who welcomed us into her home a few days ago. So far, I don't quite agree with her opinion of "cold", or her opinion of cooking. It was something she called "cottage cheese", but, to be honest… are you kidding me? If it was dairy product at all, it was concentrated in small balls, pan fried, flattened like a pancake and served as heavy pellets with sour cream and jam.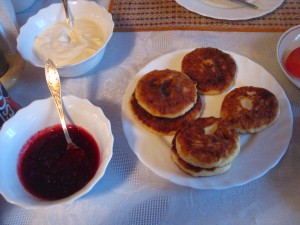 You know what, though? It actually wasn't that bad. Okay, fine. It was extraordinary. Cпасибa! ;)
We ate our hearty breakfast and stepped outside to explore the village in the bitter cold. Totally beautiful. Completely freezing. Entirely awesome.
Mixture of old and new, but the majority of the homes were in this traditional Siberian style. Except for this… err… castle?
Rita's house – our home in Listvyanka.
Like going back in time, this Russian woman is washing her laundry in the stream (in the midst of winter, mind you!)