Enroute from Beijing to Ulaanbataar (at the border between China & Mongolia)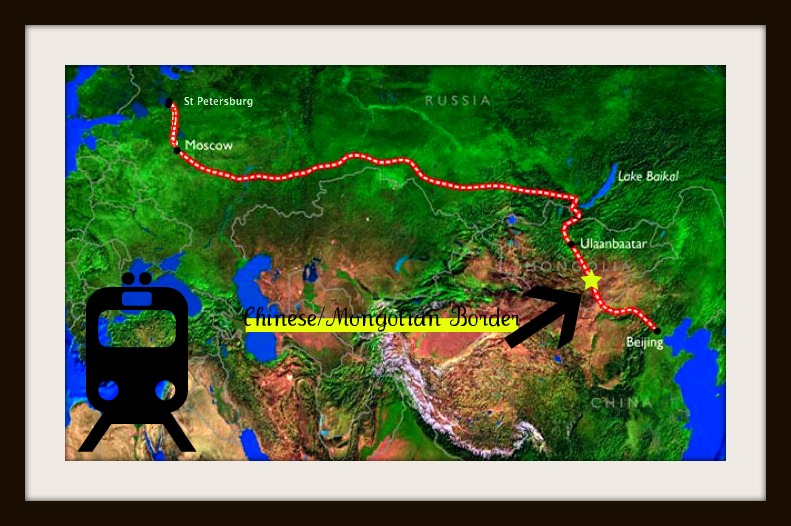 We're in the north of China now – in Outer Mongolia, to be exact (not to be confused with Inner Mongolia, Outer Mongolia is an autonomous region of the People's Republic of China – confusing, right?). Anyway, we're north. And the scenery is changing – dramatically. Gone are the bright lights and bustling chaos of Beijing. Gone are the concrete hutongs drowning in the suburbs. As we plod north, grey is changing to green, concrete to grass…
"The sky just turned blue, the clouds gave way to sunshine, and the landscape has morphed into low-laying hills and short grass, interspersed with deep rivets of cracked soil where mules pull men on wagons."
As the train pulls into the small town of Erlian on the Chinese side of the Mongolian border, we're told by the mother of our Mongolian Visitor that we have 3 hours in station (we don't trust the provodnista any more – not after this!). As much as I love instant noodles, I'm already bored of them. So we decide to venture outside to grab some more interesting snacks.
It's cold. I cannot accurately describe to you the level of cold that hit us as we stepped off that train. Last time I checked (there's a screen in our carriage that details the rise in altitude) I think we'd climbed to an altitude of 1,400 meters, and that was hours ago so I imagine we're higher than that by now.
As dusk turns to dark and the temperature drops well below zero, we fight the wind and the cold in search of an ATM . On the way, we pass a couple of young Chinese guys who whisper "hello" under their breath, giggling as they saunter by. We smile, say hello back, and then throw out "goodbye!" This startles them and they laugh and wave in unison, "goodbye!"
After grabbing a few RMB from the magic money-dispensing machine (I love the international convenience of ATMs!), we're back on the desolate, windy, wide open boulevard with high street lanterns – the kind you might find on an avenue in London – and then we see it. Our first snowflake of winter.
We haven't even left China, and it's already snowing. Rad. =)
We return to the platform to get back on the train.
But there's just a… small problem. It's not there.
We ask Mother of Mongolian Visitor where it's gone: she suggests (rather nonchalantly, mind you) that they've taken it away to change the gauge. It needs to be adjusted by 10 centimeters so it can move along the different-sized Mongolian tracks. Fine, but… they've taken our bags.
And, uhh.. we have no passports either. We let the Chinese migration officers take them before we stepped off (I say let, but really there was no choice). It's snowing, and we're 25 minutes away from Mongolia (in other words, we're a little bit in the Middle of Nowhere with nothing, not even a train ticket, to prove we belong here).
Oh well. Roll with it?
We go to an internet cafe to spend some time (in retrospect, like most things I do, it wasn't the best idea. Internet is so heavily censored in China that browsing is often more irritating than fun).
We buy Baileys for the equivalent of about $18 (yes it was worth it).
We come back and it looks like everyone has done their grocery shopping for the next 3 months (is stuff really that much more expensive in Mongolia?). Okay. Maybe they know something we don't know (doo da, doo da). We buy more stuff.
Snacks and a pomegranate juice (it was delicious).
Then, like something out of the Polar Express, our train emerges from the darkness, scattering snowflakes in every direction – the conductor blowing his whistle as the carriages chug up to the platform.
With the now-familiar shiver and lurch, the train jumps forward and rushes us, and all our things, into No Man's Land. Lights from the cabin illuminate the dusting of freshly fallen snow.
When we reach the first stop in Mongolia, it's in the dead of night. A firm knock on our cabin door and the lights are on before our sleepy eyes have a chance to adjust. We surrender our passports again and, after filling out declaration forms with a strikingly beautiful Mongolian immigration officer with a long black ponytail, our visas are stamped.
"Welcome to Mongolia," says the officer with the long black ponytail as she leaves our cabin, "enjoy your stay."