A brief interlude from blogging about my Transsiberian chronicals… here's where I spent the afternoon today. :)
I hopped on my ghetto little bike and did some exploring around my neighbourhood. And I happened across the most beautiful park I've seen so far in South Korea: Bundang Central Park. Check out the panorama below!
Getting Here:
The park is situated between Seohyeon and Sunae subway stations on the Bundang line. It's a 10 minute walk from the AK Plaza (which sits on top of the Seohyeon subway station): Walk straight out of Gate 5 (you should see the Adidas store on your left). Keep walking until the end of the stretch (you'll see a Starbucks on your left). Cross the road and walk to the next corner. Hang a left. Keep walking along here until you come to the first main intersection. The park is kiddie-corner to where you're standing. Have fun!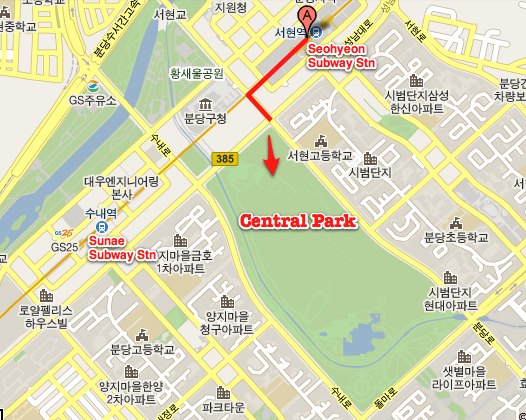 Buses that service the area:
Express bus (좌석버스): 1005-2, 7007-1, 9414, 5500-1
City bus (도시형버스): 17, 33, 51,116-3, 220, 300, 500, 520, 520-1, 720-1
Maeul bus (마을버스): 3, 222