So you're in Beijing, and you've already sampled all sorts of street food. You don't have a lot of money to blow, but your legs are weary from wandering around Tiananmen Square and the Forbidden City all day, and you're hungry for a quality sit-down meal. Well, have I ever got a recommendation for you!
Our noses discovered this restaurant for us.
It's a delicous hole-in-the-wall. It's an affordable alternative to skewered scorpions. And it's run by the sweetest Chinese woman this side of the Mississippi.
It's called Xingshan. Don't let the fluorescent lighting or plastic, checked blue-and-white tablecloths scare you away. Don't be discouraged by the bits of food strewn across the linoleum floor. I assure you, it's fine.
She'll offer you a TsingTao. Say yes.
You won't even have to ask for the English menu. She'll bring it to you. She'll bring it to you smiling.
Is this not the most awesome looking menu you've ever seen?
I know. Right?
Order some things. Order the "sliced pork with gream sauce". Order the "three treasures fresh vegetables", or the "fried bean curd in homely sauce". Order the "fish with pickles". Because you can.
You won't be disappointed. We got all this food, and more. (don't judge)
It was cheap. It was like 5 bucks each.
We had to roll ourselves out of the restaurant.
Well, first we had to figure out how to leave the restaurant…
Push? Pushed?
Who needs "pull" when it's already been "pushed"?
I love China.
And I love this woman. Next time I'm in Beijing, I'm coming back here.
And that's a fact. :)
To find Xingshan Restaurant:
From the Peking International Youth Hostel: Leave the front door and walk down the alley until you hit the main street (Beichizi St). Hang a left. Walk until you hit the next main street (you'll see one of the entrance gates to the Forbidden city to your right). Take a left. Don't cross the road, just keep walking down that same side of the street (the gate to the Forbidden City will be behind you). Keep walking past a few small shops and a restaurant or two… but you won't have to walk far. Xingshan Restaurant will be just on your left. And if you're lucky, the nice lady will be standing right at her Push Pushed door, waiting to welcome you inside. Enjoy!
From the Forbidden City: Super easy. Just exit from the gate you can see on the map below (there will be an ICBC bank sign on your left – at the time of writing, however, this bank isn't open for business and I'm a little unsure if it's even a bank at all, or just a sign…). Anyway, keep walking straight on this road, and the restaurant will be up a little ways on your left (on the same road). Good luck!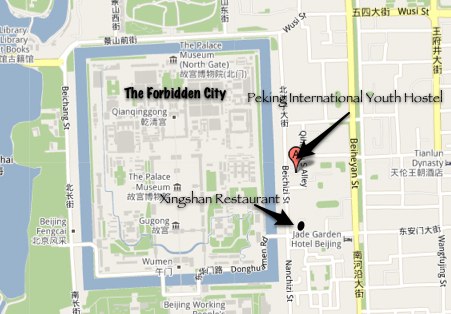 If you want to do your own exploring, I'm sure you'll find something suitably delicious on your own! The key is to explore the hutongs that fill the blocks behind the main avenues. There are shaded lanes, old homes, former residences of a local notable or an old temple. This is old Beijing in 2010, where residents still sit on their stoops and pass the time of day. Get lost. You won't regret it. :)