The Chatuchak Weekend Market is the undisputed mammoth of all Bangkok's markets. Spanning 35 acres with more than 15,000 market stalls, this behemoth of Thai shopping has reached landmark status and is a must-see for visitors to the area.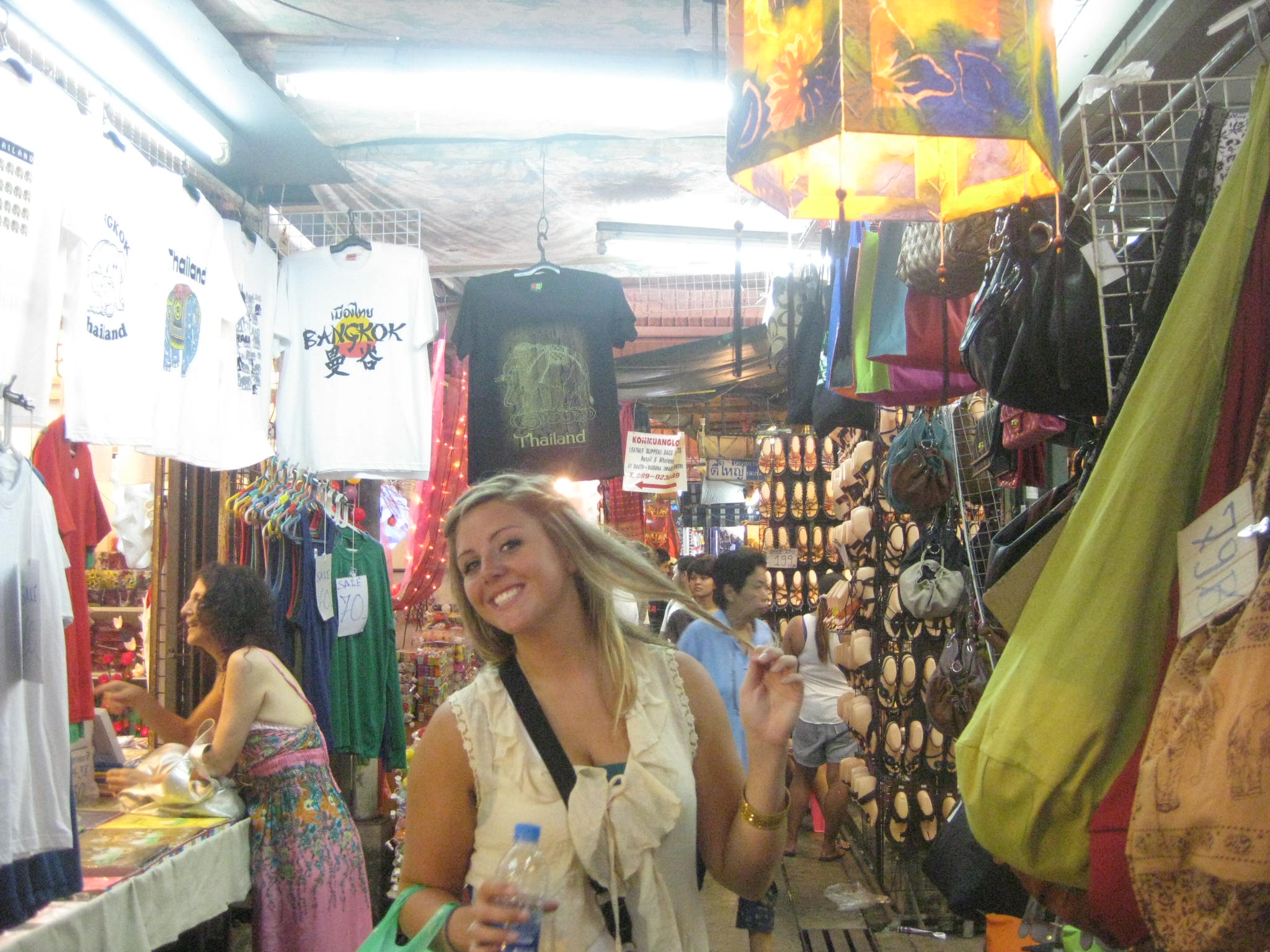 If you can dream it up, you can probably find it here. From vintage levis jeans to cell phone gadgets & electronics, from restaurant signs to different coloured stones for your fish tank. From Moroccan lampshades to Indian pashminas, from flying squirrels to mangy pigeons (because everyone loves a mangy pigeon), you can buy them all here.

The market is pure insanity. It's humid, sticky, disorienting, and absolutely worthwhile. There are price tags on practically nothing. It's up to you and your negotiation skills to secure a good deal, though whatever you buy here is probably no longer the best deal you can find. The vendors can be counted on to start you off with a price 150% over the price they would actually hope to get. So brush up on your bargaining skills and, as is always the case with bartering, be prepared to walk away. Chances are good that you'll be able to find the same stuff at a neighbouring stall anyway, if the vendor you're walking away from doesn't offer you a lower price on your way out. ;)
What to find, and Where to find it
It seems like a maze, but this website has simplified things greatly by breaking down what's for sale and where you can find it:
Clothing & Accessories (sections 2-6, 10-26)
Handicrafts (sections 8-11)
Ceramics (sections 11, 13, 15, 17, 19, 25)
Furniture and Home Decoration (sections 1,3,4,7,8)
Food and Beverage (sections 2, 3, 4, 23, 24, 26, 27)
Plants and Gardening tools (sections 3, 4)
Art and Gallery (section 7)
Pets and Pet Accessories (sections 8, 9, 11, 13)
Books (sections 1, 27)
Antiques and Collectibles (sections 1, 26)
Miscellaneous and Used Clothing (sections 2, 3, 4, 5, 6, 22, 25, 26)
If the dizzying array of stalls and the masses of people have got your appetite going, sample some interesting Thai cuisine at one of the many hawker stalls. We tried pomegranate juice and a strangely delicious green pancake thing.
When you go (as you should!) make sure to wear light clothing and comfortable walking shoes, bring your best bargaining skills, and don't forget to slather on the sunscreen.
Getting to Chatuchak
By skytrain: Take the BTS Skytrain to Mo Chit station, Exit 1. If you follow the crowds, they should lead you to the rows of stalls; keep to the right and you'll see a small entrance that leads into the market (clothing section).
By subway: Take the MRT Subway to Chatuchak Park station, Exit 1. Follow the crowds until you get to the small entrance leading into the clothing section of the market.
Hours of Operation
The weekend market is open on Saturdays and Sundays, 09:00 – 18:00, and Fridays 18:00 – 24:00. Plant sections are also open on Wednesdays and Thursdays, from 07:00 – 18:00.