One month, 10 days later, and I'm really starting to undergo Korea Withdrawal. It's not pleasant, nor is there a reasonable antidote. I'm even starting to miss the hocking ajishis and the daily staredowns on the subway. I don't miss the constant threat of a nuclear attack by the Mad Hatter Up North, but believe it or not, it's not actually a big deal over there, as they've been battling constantly with this Communist Mad Man for so long that threat from the North has become a reality of their every day existence, so "normal" in fact that it's often swept under the kimchi fridge and forgotten long before the smell of rotten cabbage has dissipated. These are my 10 favourite things to do in a city with a lot of Seoul. Some are random, some are obvious. But they are all wonderful, and all deserve your time. =)
1. Dr. Fish Pedicures – after a long day of navigating the streets of Seoul, dodging the hocking ajishis, spending your hard-earned won on marvelously underpriced subway garments, and chowing down on street vendor delicacies like tteokbokki, odeng, mandu, or gimbap (stay away from the boiled silkworm pupa and river snail), your feet probably need a little rest. Take your weary legs to one of the many Korean coffee shops that offer "Dr. Fish" services where, for an unbelievable 2,000 won (less than 2 dollars, folks), you can treat your feet to the best doctors in town… My coffee shop of choice is the Dr. Fish in Gangnam.
How to get there: Take the green line (Line 2) to Gangnam station, exit 6. Walk towards the intersection so you can see exit 7 on the other side. Look for the City Theatre (you'll see the CGV right next to it) on the same side of the street as exit 7. Keeping the street between you, walk towards the theatre. Once the CGV Building is directly opposite you on the other side of the street, you should be standing right right in front of Dr. Fish. The entrance is a little hidden, but walk into the building behind you and head up to the second floor. Voila!
2. The Elusive Moroccan Sandwich Man – So it's 5am and you've just waddled out of one of the greasy foreign pubs in Itaewon (or, just as likely, stumbled down from Hooker or Homo Hill, the latter of which is always a ton of fun, the former of which is not, because that probably means you were at Polly's, which has to happen never again), and you're already regretting those last 4 buckets of Soju and Koolaid, and the Samgyeopsal you had for dinner. It makes zero sense whatsoever, but all you can think about is something greasy and delicious before hailing a cab home. Mr. Kebab is always a good, simple option. But if you want something really delicious and memorable, you'll have to venture a little further. On the main stretch of road in Itaewon, somewhere in the vicinity of the Hamilton Hotel but never in exactly the same place, you will be very lucky to happen upon The Elusive Moroccan Sandwich Man and his Wife, dishing out Mysterious Moroccan Delicacies from the back of their vanishing truck. He is a nocturnal legend, only venturing out in the dead of night, so if you swing by at 2pm and expect to find him, you will leave disappointed (and hungry).
Do not ask what the ingredients are. Do not question his ways. Do not expect to know what you're eating. And when he throws it in a hot-dog bun, don't ask why. Just eat it.
3. Gimbap and Post-it Notes in Myeongdong – Myeongdong is renowned for its amazing shopping and knock-off name-brand merchandise. Foreign girls like myself can find clothes that fit (!) in shops like Forever 21 and H&M. Spend a day amongst the crowds, meandering through rows of colourful shoes and scarves, and socks depicting mario-smoking-weed and other amusing trinkets for the folks back home (at one point I was convinced to buy a stuffed chicken key-chain with a removable face, into which they inserted a photo of my own awkwardly smiling head. I then mailed it to my parents for Christmas. Don't act like you aren't jealous!). After a day of this, you will be exhausted. Reward yourself with delicious gimbap and bubble tea from a tiny Korean restaurant just around the corner from Forever 21. Better yet, write all your regrets from the day (or in my case, your limerick about that personalized stuffed chicken keychain) on a post-it note and record it on the walls forever. The gimbap is delicous and the decor is, well, ever-changing. Go there and cover the walls with your own remorse.
4. Jimjilbong-ing – Visiting Korea without experiencing a jimjilbang is like saying you've been to McDonalds and not eaten the food. You really can't say you've been to Korea until you've visited a bath house. Okay, so it's scary at first. How often do you hang out with your friends naked? The last time I spent any number of minutes naked with my friends was running through sprinklers as a 4 year old. Needless to say, it took a substantial amount of "Let's Enjoy Sweet" and several unsuccessful countdowns before Melissa and I finally dropped our robes and bolted, stark naked, past a plethora of gawking ahjumas into the closest bath we could find. Our first jimjilbang experience was not the most pleasant (though it was intensely hilarious) as the second we splashed into the pool, we looked up into the angry eyes of an overweight and very spread-eagled Korean lady baring down on us, screaming as she brushes her teeth and gestures wildly with her free hand, dumping buckets of water over herself and rubbing every crevice of her pimply body – after several awkward minutes we realized she was unhappy because we'd neglected to "rinse off" in the showers before we booked it into the pool. Anyway, I've never taken advice from a naked overweight and spread-eagled lady before, and I don't intend to start now.
Angry spread-eagled ahjuma aside, jimjilbangs are the greatest invention of mankind. They are cheap (think 10 bucks), full of amenities, and you can even sleep there (for $2 extra). Floor upon floor of baths, saunas, igloos, foodcourts, sleeping quarters, footbaths, massage rooms, arcade rooms, norebongs, outdoor patios, outdoor pools, and general relaxation. Dragon Hill spa in Yongsan is, quite literally, heaven on earth. I've met friends who have lived in Korea for years and never experienced a jimjilbang. I have six words for them: get over yourself and get naked.
5. Nightlife and Norebong-ing – After a few interactions with Soju, there is simply no better way to unwind after a night on the town than by singing your heart out at a nearby norebong. They are everywhere in Seoul (look for this on signs everywhere: 노럐방) – our favourite ones are in Hongdae, which is perfect because the area around Hongik University (line 2) is great for nightlife. Go there and get lost in the bright lights and loud music, and stumble yourself to a norebong before you head home.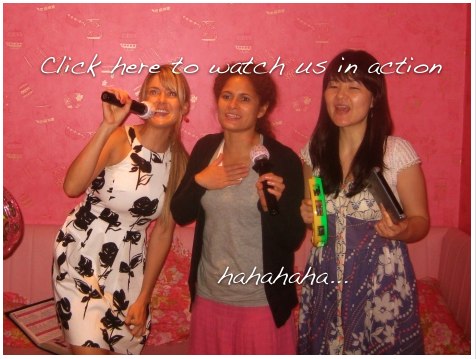 6. Shopping, Coffee, and an Indian – Dongdaemun is THE discount shopping destination in Seoul. It's a massive shopping area with all sorts of vendors, from those who sell handbags to those who exclusively sell zippers. You can find anything, and everything, assuming you've got the time and patience to make it happen. After wandering out of the Dongdaemun exit (where lines 1 & 4 intersect), spend a few hours perusing the huge variety of goods available here. Get lost. If you get lost the same way I did and find yourself in the Street of Sewing Machines, go caffeinate yourself at the "Coffee and Doggy".
But if you miss this most delicious opportunity, all is not lost. Before you leave Dongdaemun for the day, you MUST visit the BEST Indian/Nepalese food restaurant in all of Seoul: Everest. It is so impeccably awesome that words cannot hope to express it's sheer magnificence. Their Garlic Nan Bread is out of this world and their curries are amazing. The Malai Kofta is a religious experience and is by far my personal favourite. I'll give you directions and insist that you go there. The rest is up to you.
How to get to Everest: Take the subway to Dongdaemun station, exit 3. Walk straight and turn left up the first lane. Continue 20 feet past a Korean seafood restaurant with a big aquarium of live fish on your right. You'll come to a fork in the road. Look right, down the alley. You'll see the blue Everest sign on the 2nd floor. To any of you who make it there in the next little while, I'm extremely jealous and I hate you.
7. Twelve Dollar Teeth Cleaning – To this day I will not understand why North America finds it reasonable to charge $120 for a teeth cleaning. At that price, it's almost worth it to book a flight to Korea and visit a dentist in Seoul. I had my teeth examined, cleaned, treated, and flossed in a very clean dentist's office with a wonderful view in Gangnam. For TWELVE DOLLARS. I suggest everyone goes there. They don't speak English, but who cares. They know teeth, and that's what you're there for.
How to get there: Take the subway to Gangnam station (line 2), exit 1. Pull a sort of u-turn right out of the exit, and five steps later the building is on your left. It's the big building. You'll see it. Go inside, it's got a nice lobby… and take the elevator to the 11th floor. It's marvelous. You'll walk out with happy teeth. Office phone number: -02.3469.1501 (only call if you can speak Korean, or get a Korean to call for you).
8. Triple O's Burgers – To those of you who are native to the west coast of Canada, you'll appreciate this one. There is a Whitespot in Seoul. That's right. You can get your triple-o fix without even having to part with your kimchi addiction. There were several things I missed from home while I was living in Korea, but none so intense as my need for a big, fat, juicy Whitespot burger. It got to the point that I was literally on the brink of paying to fedex a take-out bag across the globe. Imagine my delight after finding out there was a Triple O's in Apgujeong (line 3), literally 10 minutes away from my apartment. I dragged a bunch of my friends with me, none of whom had ever experienced the delight of a BC Burger. It took awhile to find, and we nearly gave up altogether, but we eventually found it (and oh, was it ever worth it). The burgers, the fries, the milkshakes(!) taste exactly the same! They even have a brunch menu. Brunch!!
I'm going to tell you how to get there, because I care about your happiness and well-being. Be thankful.
How to get there: It's on the first floor of a building named Holim Museum. The Museum is right next to the Cinecity building, which happens to be the tallest in the Apgujung area. It's black. And the restaurant is kind of recessed in, so it's a little hard to see. We found it by taking a cab directly to Cinecity Apgujeong. We also wandered around for quite some time without finding it, so either you'll have friends more patient than I do, or you'll take my advice and walk to the front of the building, despite the fact that it feels like you're going in completely the wrong direction, continue past the rounded, recessed bit, and you'll find it (and your friends won't hate you).
9. Hike a Shaman Mountain – In the northern part of central Seoul, Inwangsan is just 338 meters high but offers a good opportunity to see part of Seoul's fortress wall and catch a glimpse of Buddhists and Shamanists practicing their faith on the same mountain. It doesn't take long, and you can wander the paths on the hill for a few hours. There are great views of Seoul from the peak.
How to get there: Dongnimmun station on the orange line (line 3) will get you close to the trail. Take exit # 2 and look for signs at the first little intersection you come to. Hang a left and follow the signs through tight alley streets and up the incline between apartment towers until you reach the entrance of Inwangsa Temple. NOTE: Taking pictures of the rad people performing rituals is generally frowned upon….
10. Noryangjin Fish Market – Spend a few hours navigating the huge Noriangjin Fish Market. It will open your eyes to an aspect of Korean culture that can only effectively be experienced through your nose hairs. This 66,000 square meter facility houses over 700 shops selling fresh and dried fish and squid from 15 fishing ports around Korea. It also includes numerous restaurants, an auction floor, and an adjacent agricultural section. Open from 3:00 a.m. to 9:00 p.m., retailers work every day while wholesalers take off Sundays and holidays. Chances are good that you'll be the only foreigners here, and therefore very likely to be approached by seafood vendors who assume you're looking to make purchases for some huge overseas fish market. We indulged their assumptions for awhile, but eventually became so creeped out by "octopus legs" that looked more like human limbs that we navigated our way out of the market as fast as our waygook legs could carry us. Haha. Just kidding. It wasn't that bad, and is definitely worth a visit. Check the video below to watch our experience. =)

How to get there: (I won't tell you how I found it, because I trusted my nose (it shall never be trusted again) and definitely wandered around aimlessly for about an hour before randomly stumbling on it…) Instead, don't take my advice, and instead take the internet's advice: take the dark blue line to Noryangjin (subway line 1). Leave the station through exit 1. Walk up the stairs and as you step out of the station, you'll be greeted with a long overhead pedestrian bridge, which leads you across the railway and subway lines before you find yourself at the roof carpark of the fish market. Good luck!
A few more of my Seoul favourites:
–Wakeboarding on the Han River
–Baseball games at Jamsil Stadium
–Afternoon tea in a Locomotive-themed Tea House
–> There is no more fitting an end to writing this post than overhearing "oh! chincha!?" from the ladies one table over from me in this North Vancouver Starbucks. I love you, Korean ladies. =)