"Your work is to discover your world and then with all your heart give yourself to it."
-Buddah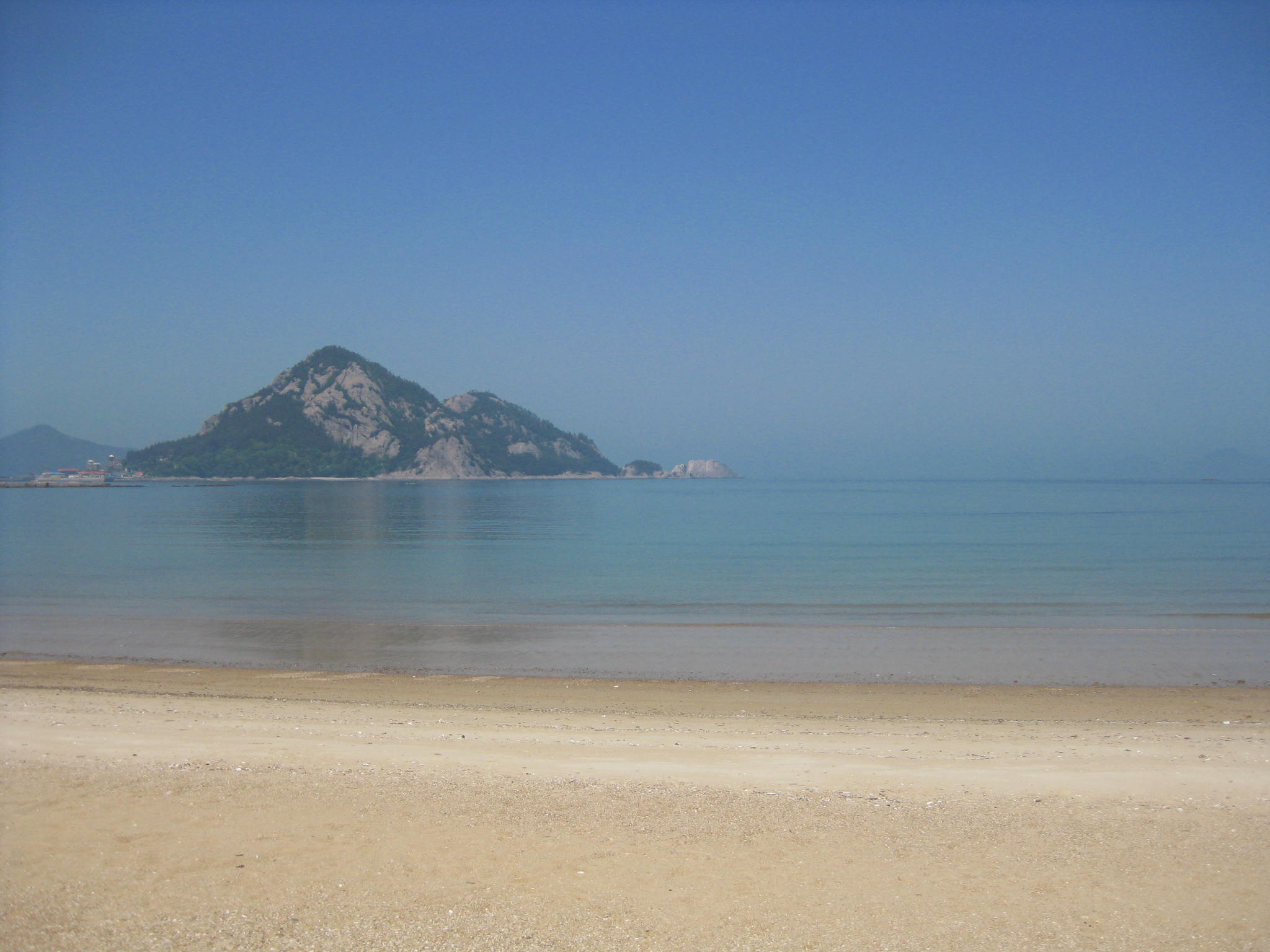 So Buddah's kind of a smart guy. And he just had a birthday. On May 21st, as a matter of fact. And I would have never known this except that I am in Korea, and there are millions of Koreans who think his birthday is reason for celebration. So many, in fact, that his birthday is a national holiday here. And why not, I say. Why not.
Friday, May 21st. No work! I don't know about you, but I like long weekends. I also like islands, and beaches, and camping. So on Thursday night, amid the swarming crowds at the Express Bus Terminal, we hopped a bus (thankfully my friends had enough foresight to buy our tickets in advance; otherwise we'd have been out of luck) and headed for Gunsan, a port city on the West coast of South Korea. [I also made a short video of our trip, which you can watch here.] Thankfully, (because Gunsan is exactly as exciting as the most boring moment of your life), this port town was not our final destination. Our sights were set on Seonyudo Island, about an hour's ferry ride from Gunsan's Coastal Ferry Terminal.
However. We arrived at Gunsan's bus depot (a depot no bigger than your average bedroom) around 1:30am. And for whatever ridiculous reason, ferries to Seonyudo don't run at all hours of the night (I know, right?). So we were faced with the marvelous opportunity to check out all Gunsan had to offer.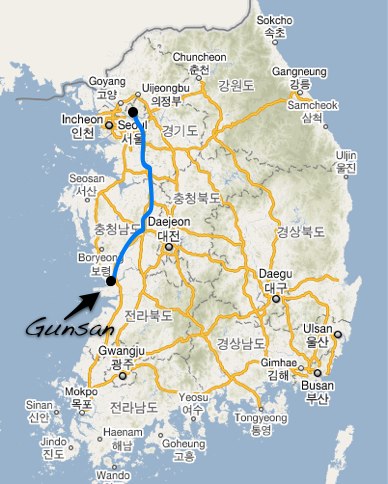 Gunsan! This city, in the North Jeolla province of Jeollabuk-do (try saying it, it's fun!), has lots to offer.
It has a convenience store! It has a road! It has a million love motels!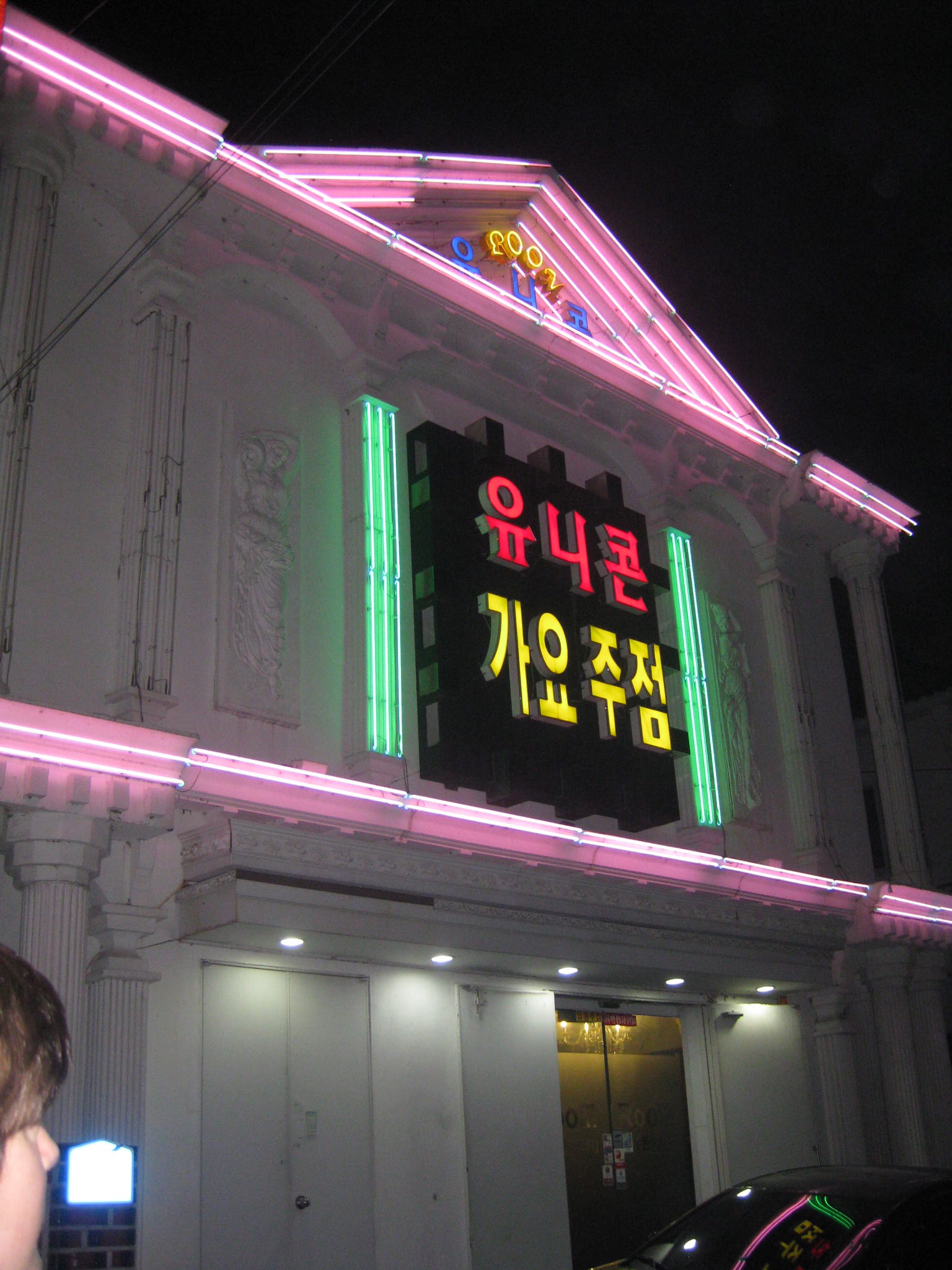 Yup, and that's really about it. It's a good thing we needed somewhere to sleep, because there wasn't anything else to do anyway! And so Gunsan shall now affectionately be referred to as the Land of the Love Motel. Walking down the road lined with motels, it was the brightly lit Grecian style that caught our eye. This was destined to be our oasis for the evening. And what an oasis it was! Complete with a huge jacuzzi, scented flowers, mirrors everywhere, and a huge TV with every sort of Korean porn you should ever have the inclination to peruse. And what use is porn without a vibrating bed?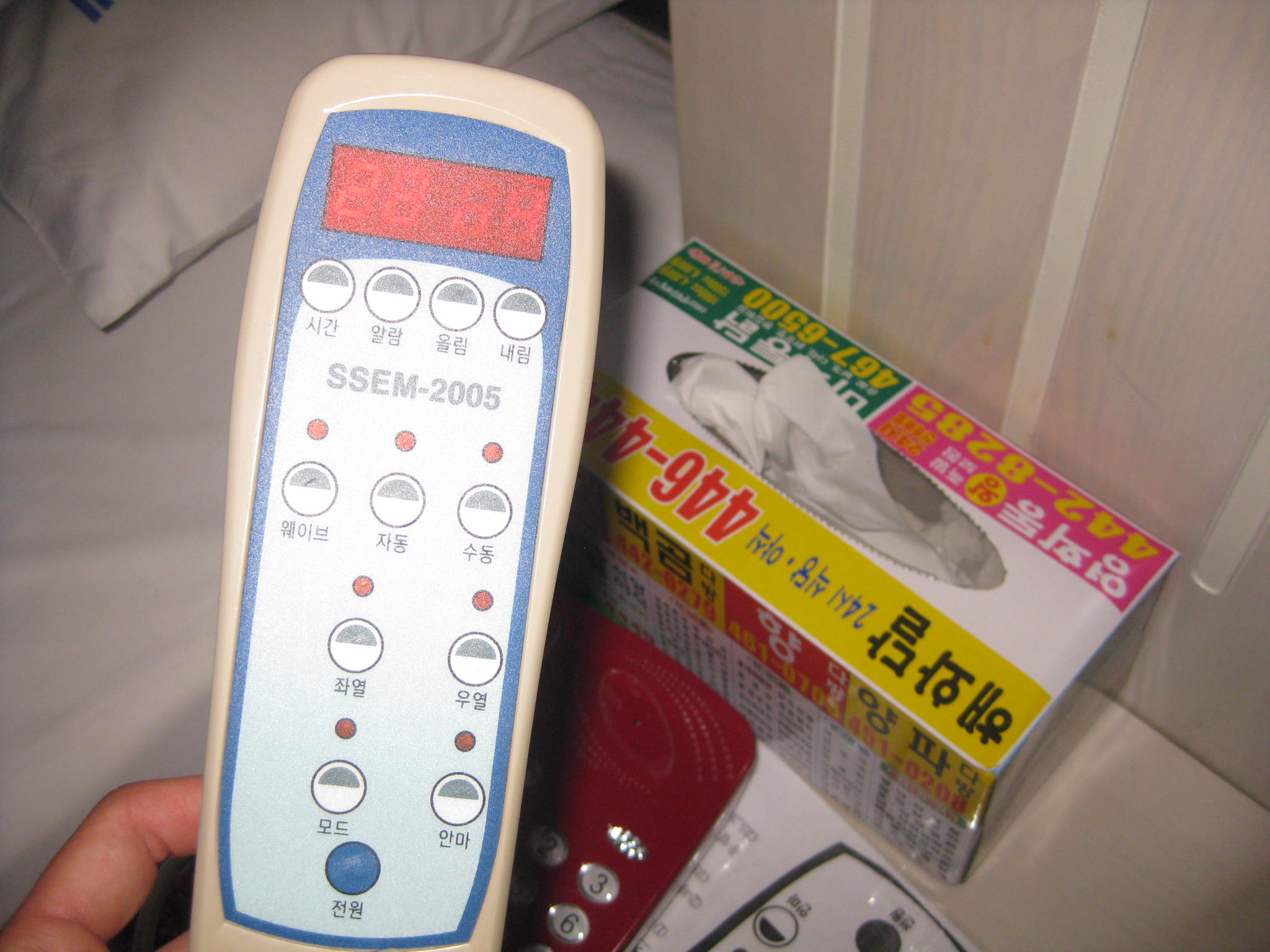 Complete with a remote control to change the ferocity and the speed, this bed vibrated like nothing I've ever seen in my life. Too bad we only had 5 hours in this place.
Kidding.
But it was hilarious. Thank you, Land of the Love Motel. You were certainly entertaining.
Anyway, the next morning we woke up early to catch a 9am ferry to Seonyudo Island. And was it ever a fine day for boating!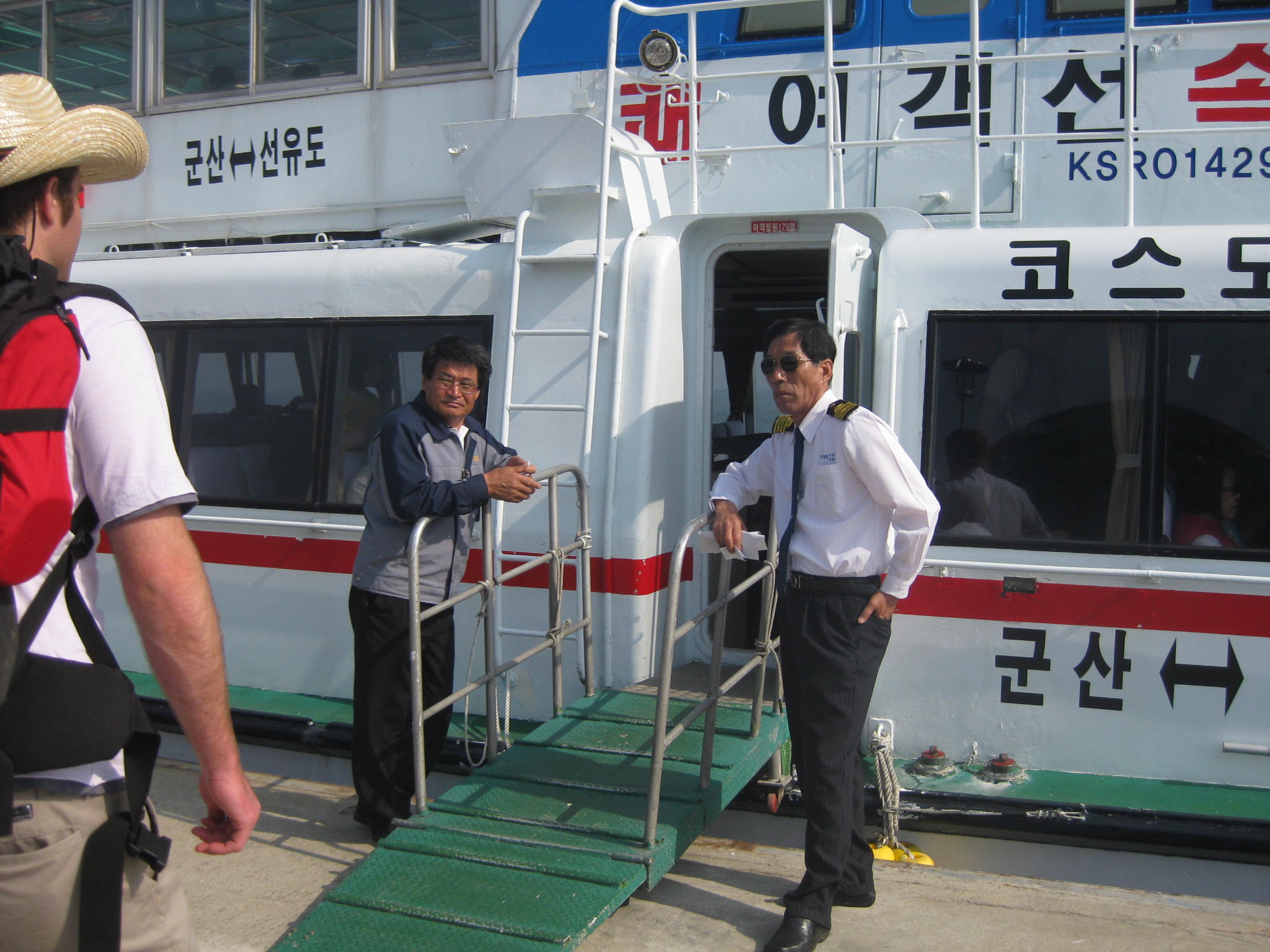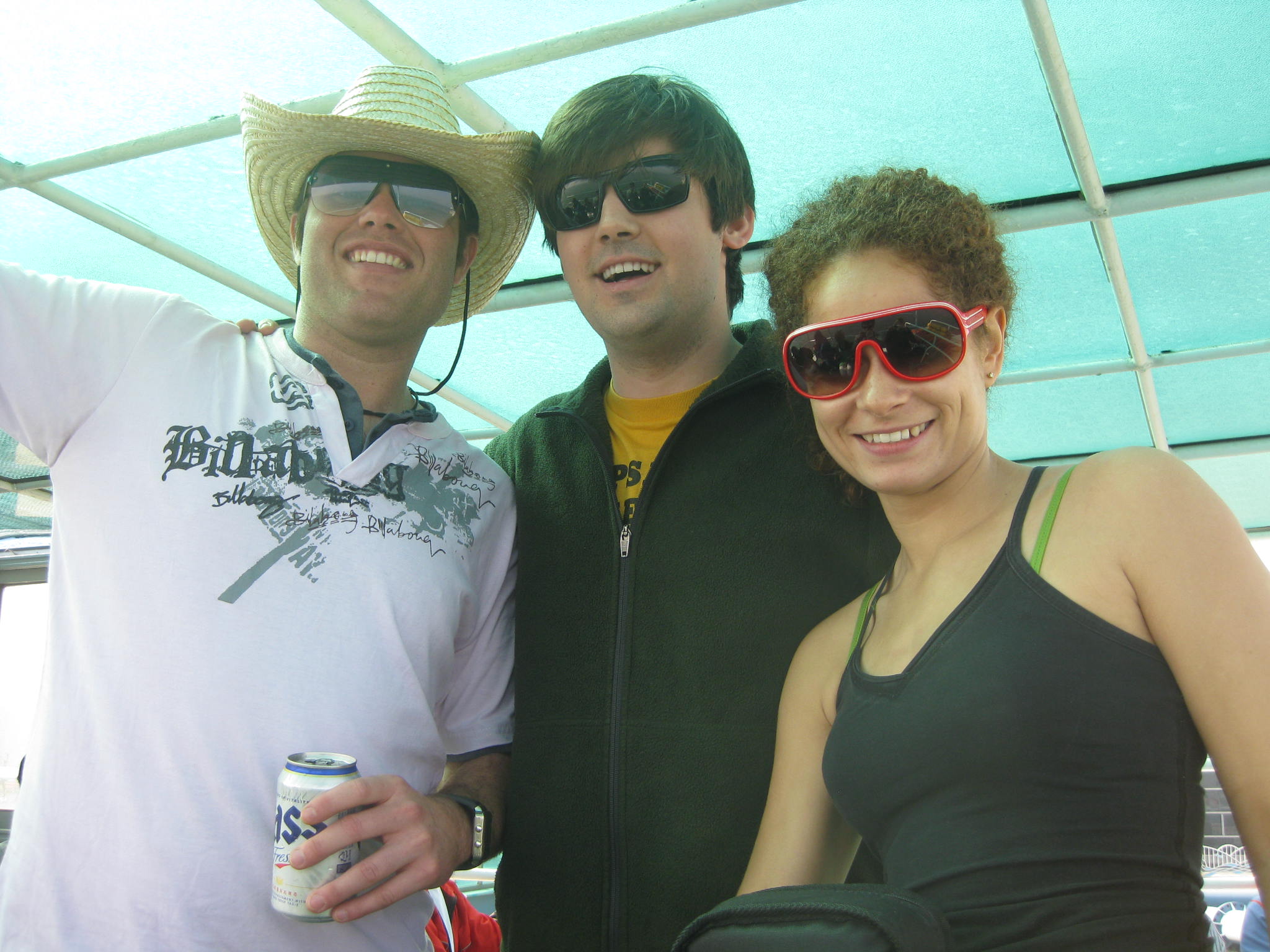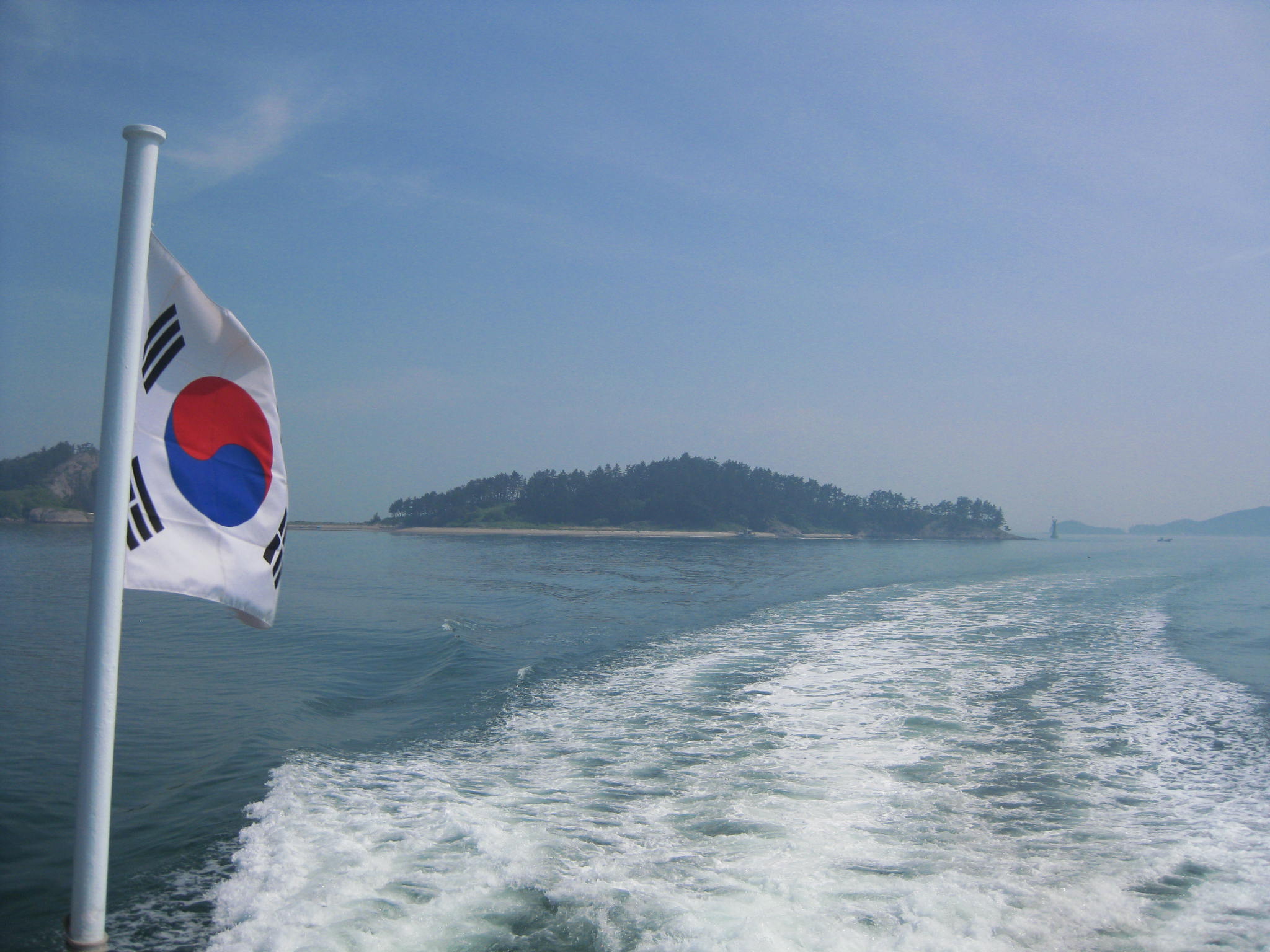 Hello, Yellow Sea! Hello sunshine and warm weather! Hello summer!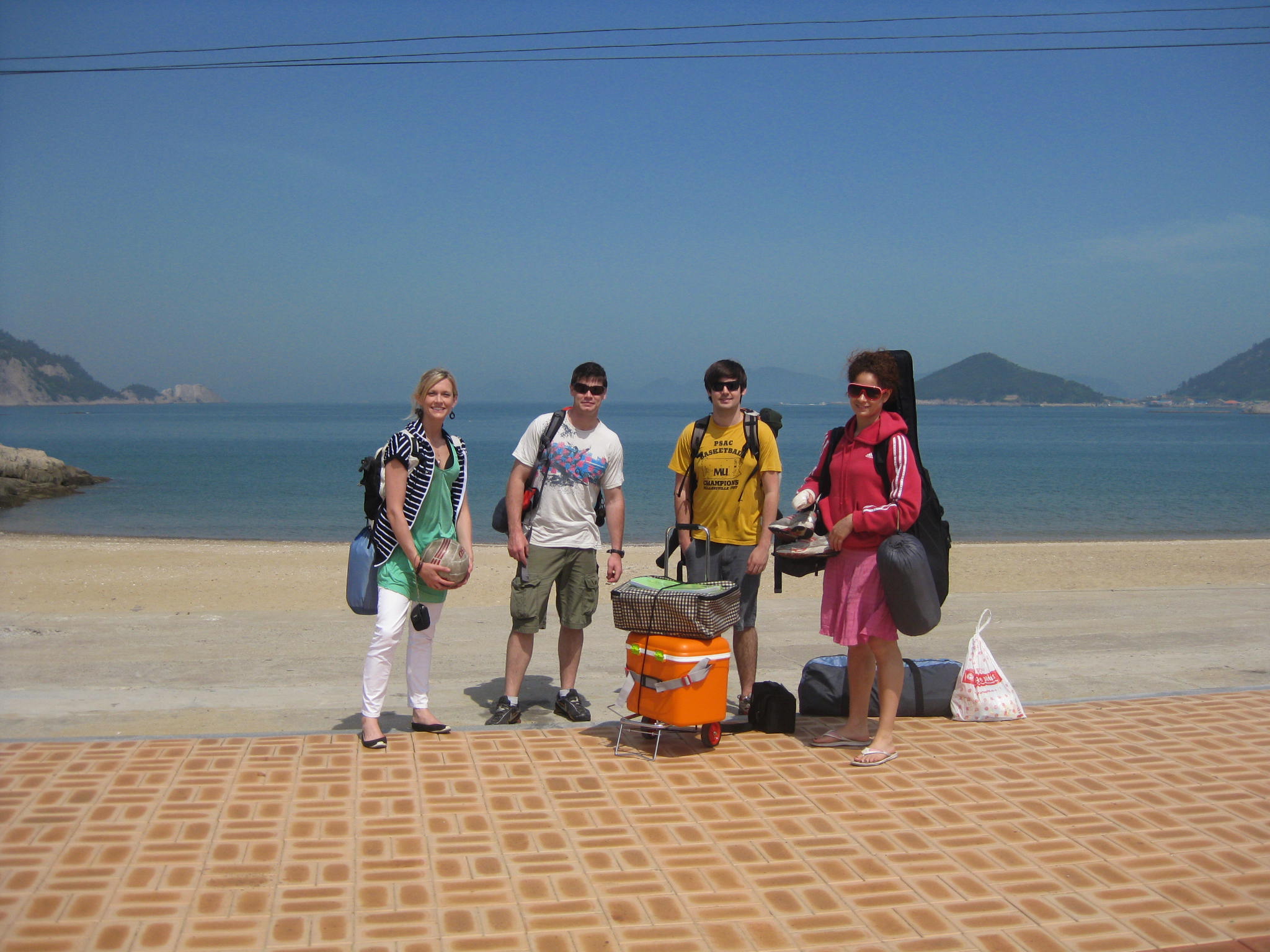 We arrived on Seonyudo well-before noon, and set out to find a place to pitch our tents. On the way, we passed a bunch of scooter stalls. And by the time we'd found the beach to pitch our tent on, we'd come to the consensus that scooters were an absolute inevitability. And so it was done. We put our bathing suits on, rented ourselves some scooters, and set out to explore the islands (there's actually more than just Seonyudo, which I wasn't aware of before we got there, and most are connected by bridges so scooters are the perfect way to see them all).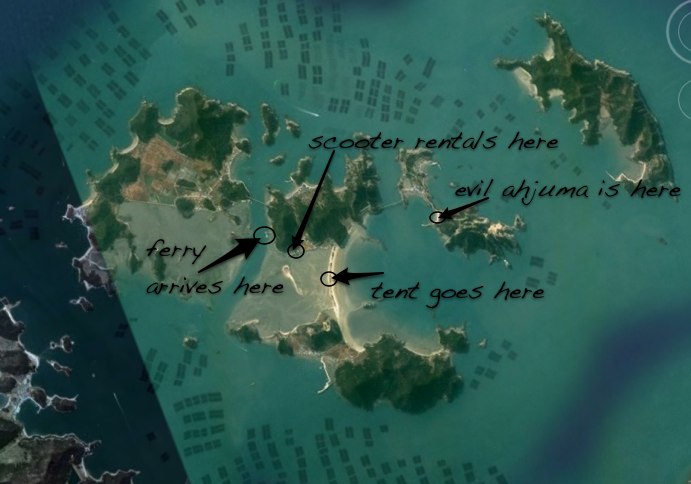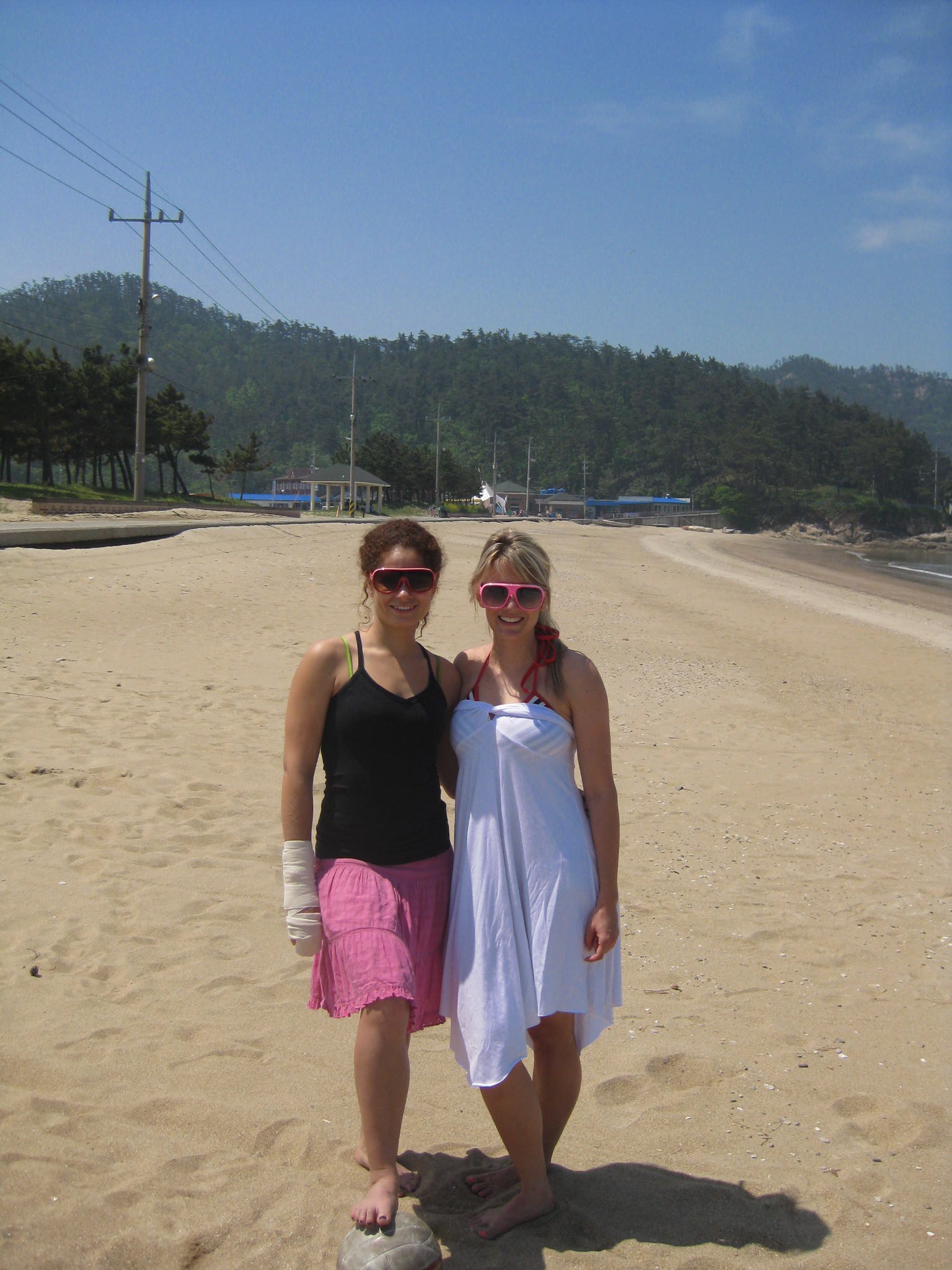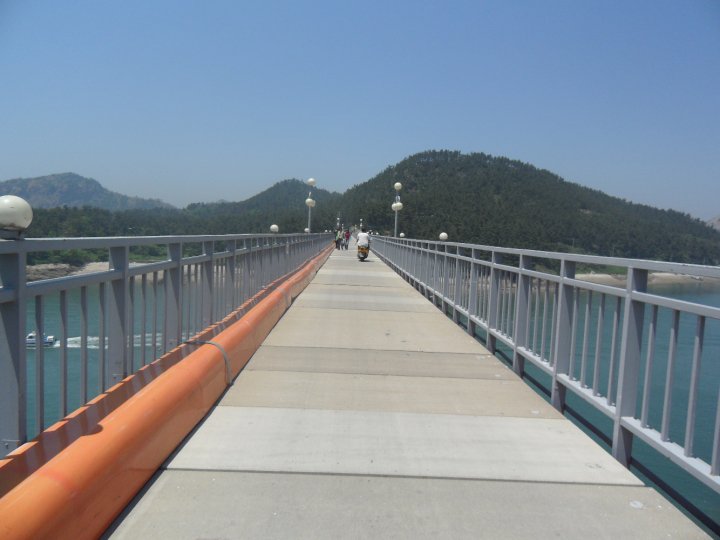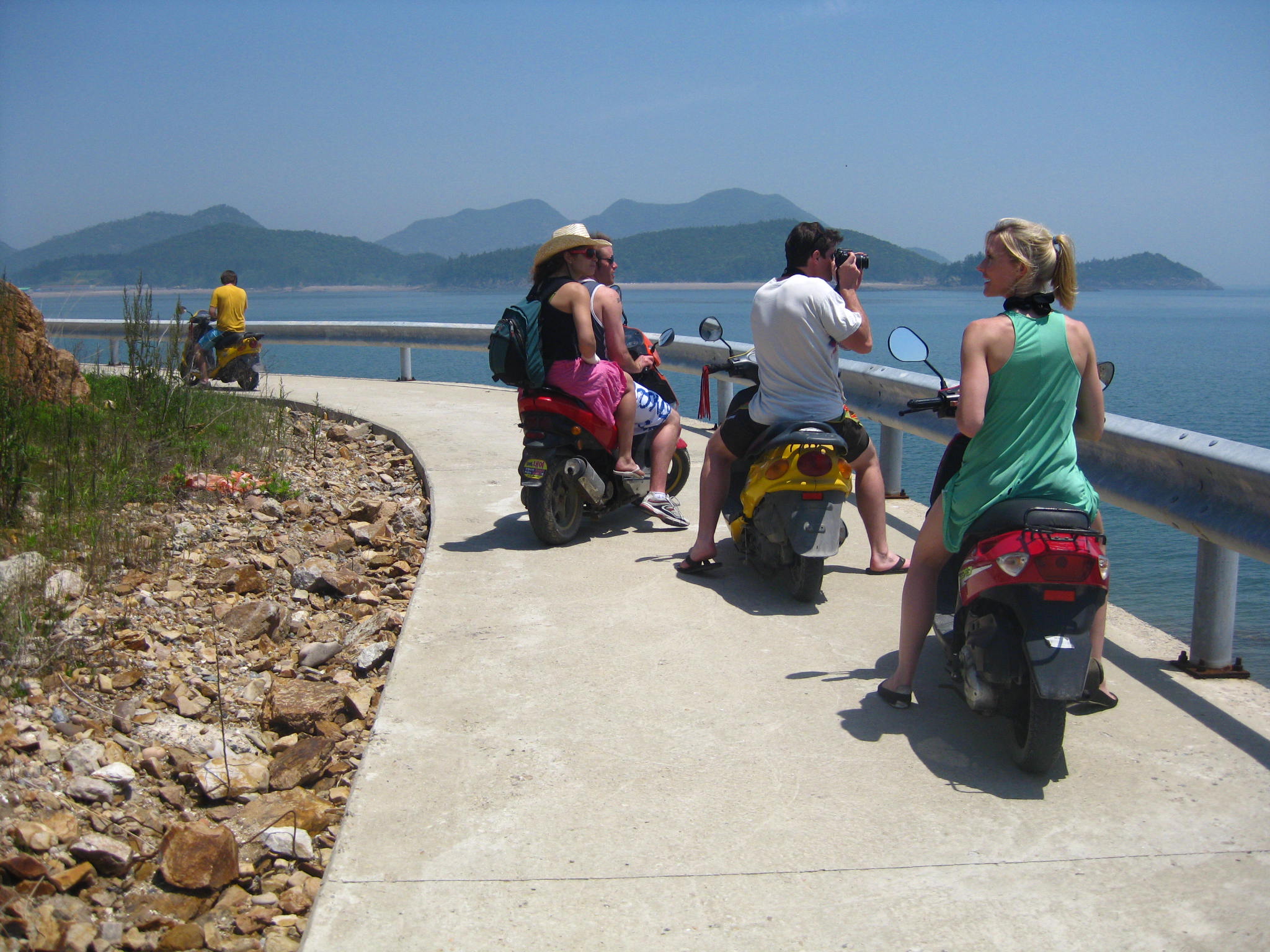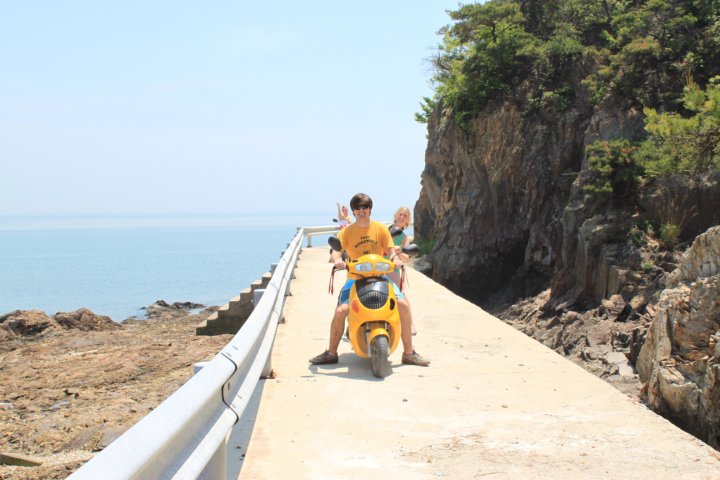 It was an absolutely fantastic afternoon. I may or may not have developed a serious sunburn, but it was my first time driving a scooter (loved it!) and dead skin is kind of fun to peel off. Haha.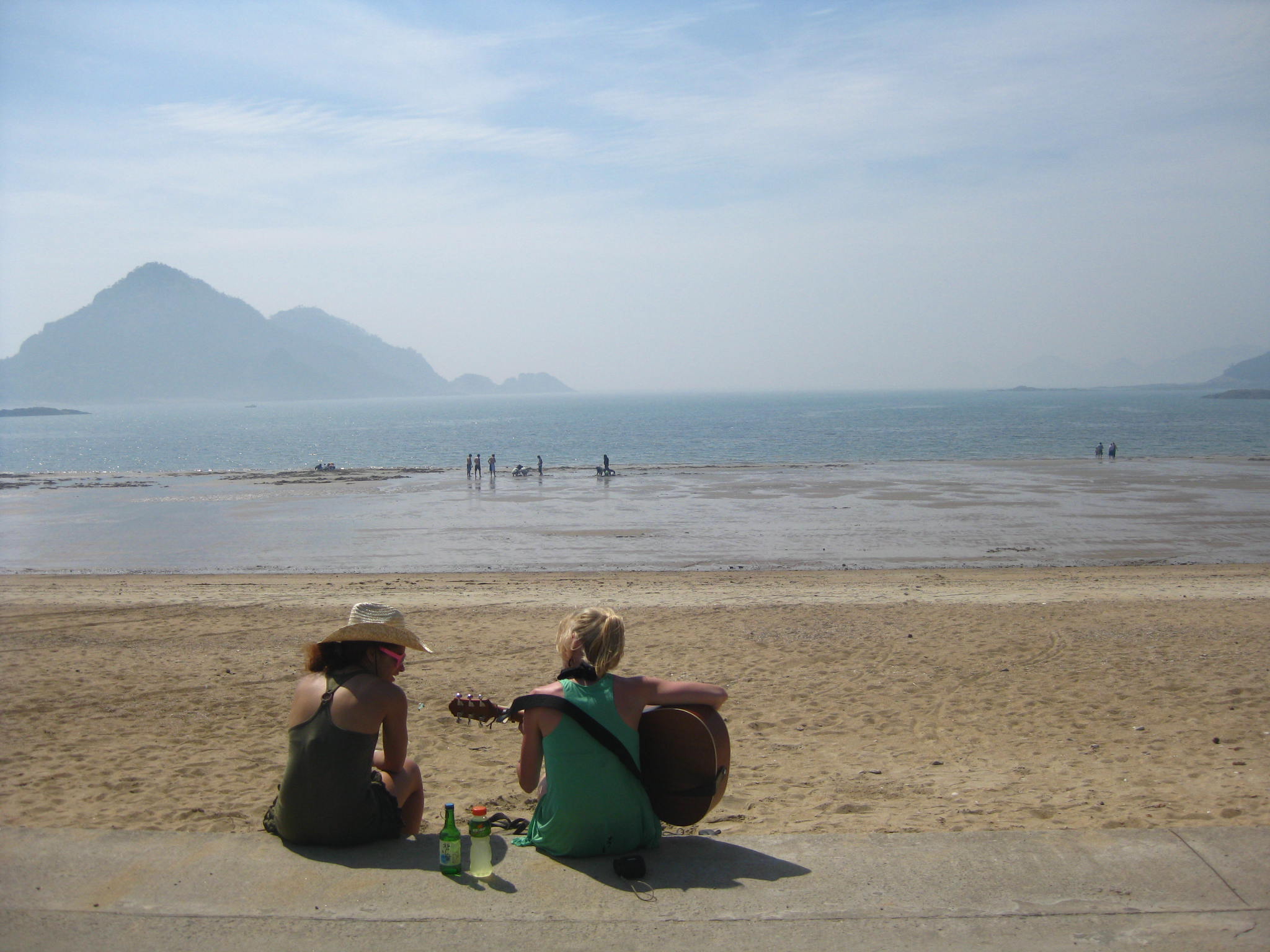 As the day turned into evening and the sun started to fall in the sky, we decided to check out the sunset on the only island we hadn't yet explored. It was here that we met the evil pizza-pan weilding ahjuma who tried to kill DJ. I won't elaborate here except to say that she chased him with a silver platter and knocked him off his scooter, then disappeared as his head smashed into the concrete and a huge bloody gash developed on the side of his head. He was out cold for a number of seconds and had to be rushed to the hospital, which unfortunately was back on the mainland not far from the Land of the Love Motel. It was a terrible, horrible, no good, very bad experience, and he is lucky to be alive. He received 24 stitches in his head, was diagnosed with a fractured nose, and there's nerve damage in his forehead. His hospital bill was in the neighbourhood of 1.8 million won (approximately $1,700), and after all that, Evil Ahjuma is trying to sue him for money.
And our wolf pack.. it decreased by two. So there… there were six of us in the wolf pack… We were together in the pack, and then we lost Teddi and DJ. And we thought, "wait a second, could it be?" And then we knew for sure, we just lost two guys from our wolf pack. Four of us wolves now, running around Seonyudo together, in Korea, looking for strippers and cocaine.
Haha. Sorry. Couldn't help myself. ;)
Anyway, we played cards, ate like kings thanks to DJ's marinated chicken, made a bonfire on the beach, and chatted with some other foreigners who were also staying on the island. We eventually passed out and I awoke at 5am to raindrops falling on my head (and yes we were inside the tent). It was pouring (pouring) out. We managed to put the fly on before passing out for a couple more hours, and then were awoken again by the ferocious wind and rain beating the side of our tent, and the fly doing exactly the opposite of what it should be doing – flying off.
We made a delicious breakfast anyway, all thanks to Teddi and DJ. There is absolutely nothing in this world comparable to BBQ'd bacon on the beach in the morning.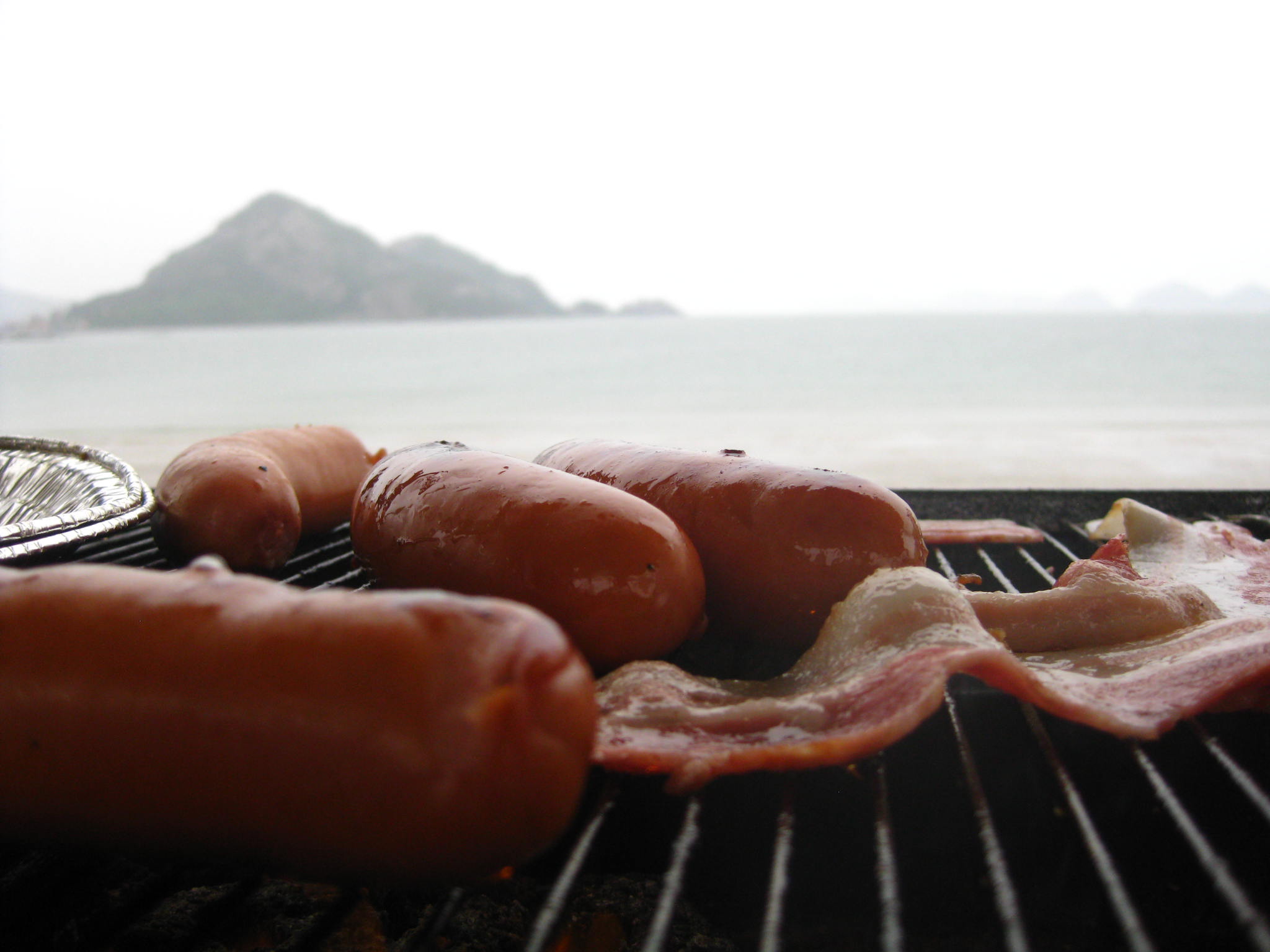 The smokies we cooked were thrashing about violently in the wind, and it was everything we could do to keep the coals lit in the pouring rain. But it was a most delicious breakfast. Afterwards, freezing cold and wearing everything we'd brought that wasn't absolutely soaking wet, we packed up camp and headed for the ferry (in actuality, it was a mad rush for the ferry as we ran into a friend from the day before who told us the ferries were to be canceled due to unfavorable weather conditions and we'd better get over there NOW if we wanted any chance of leaving the island today).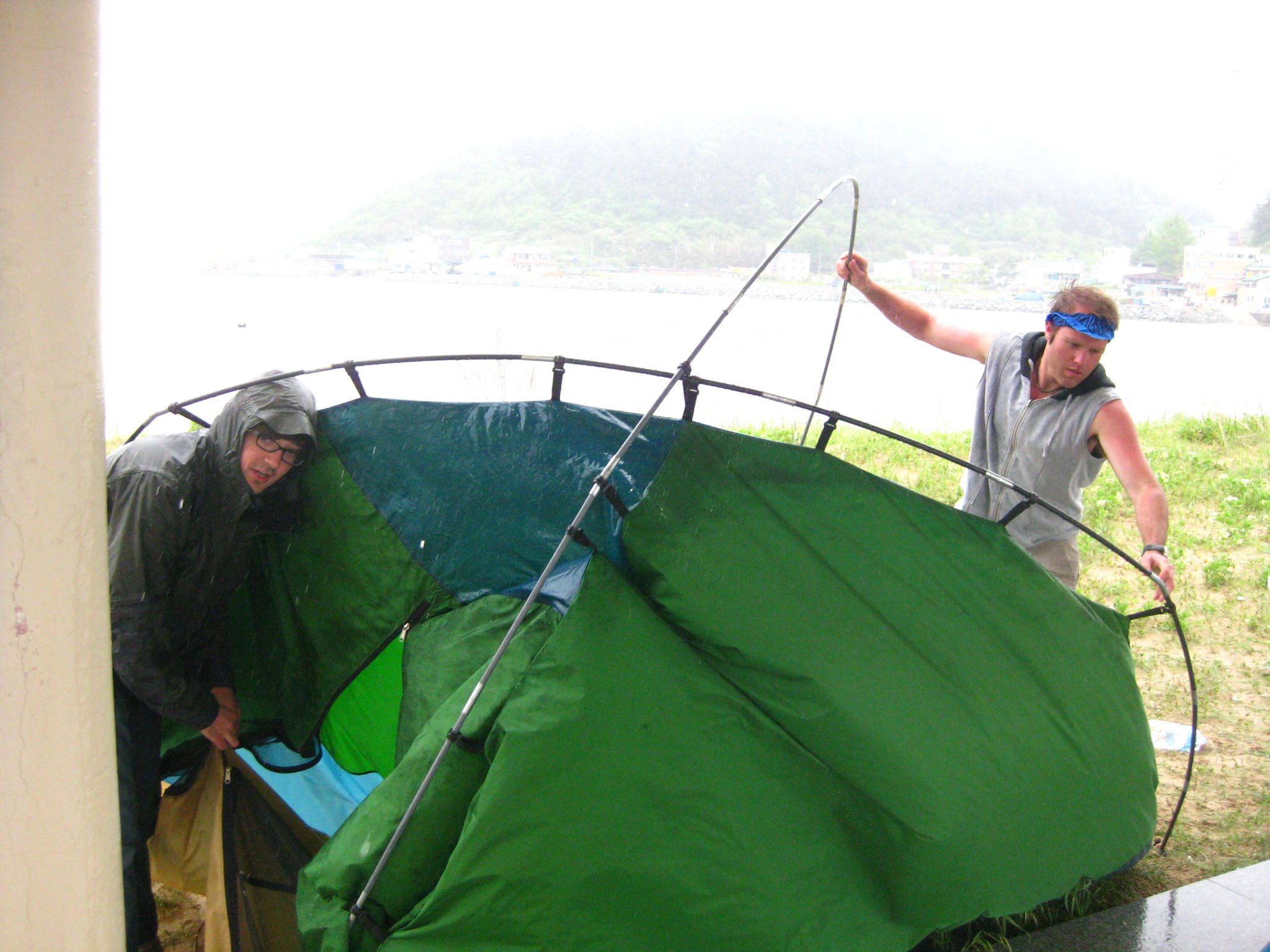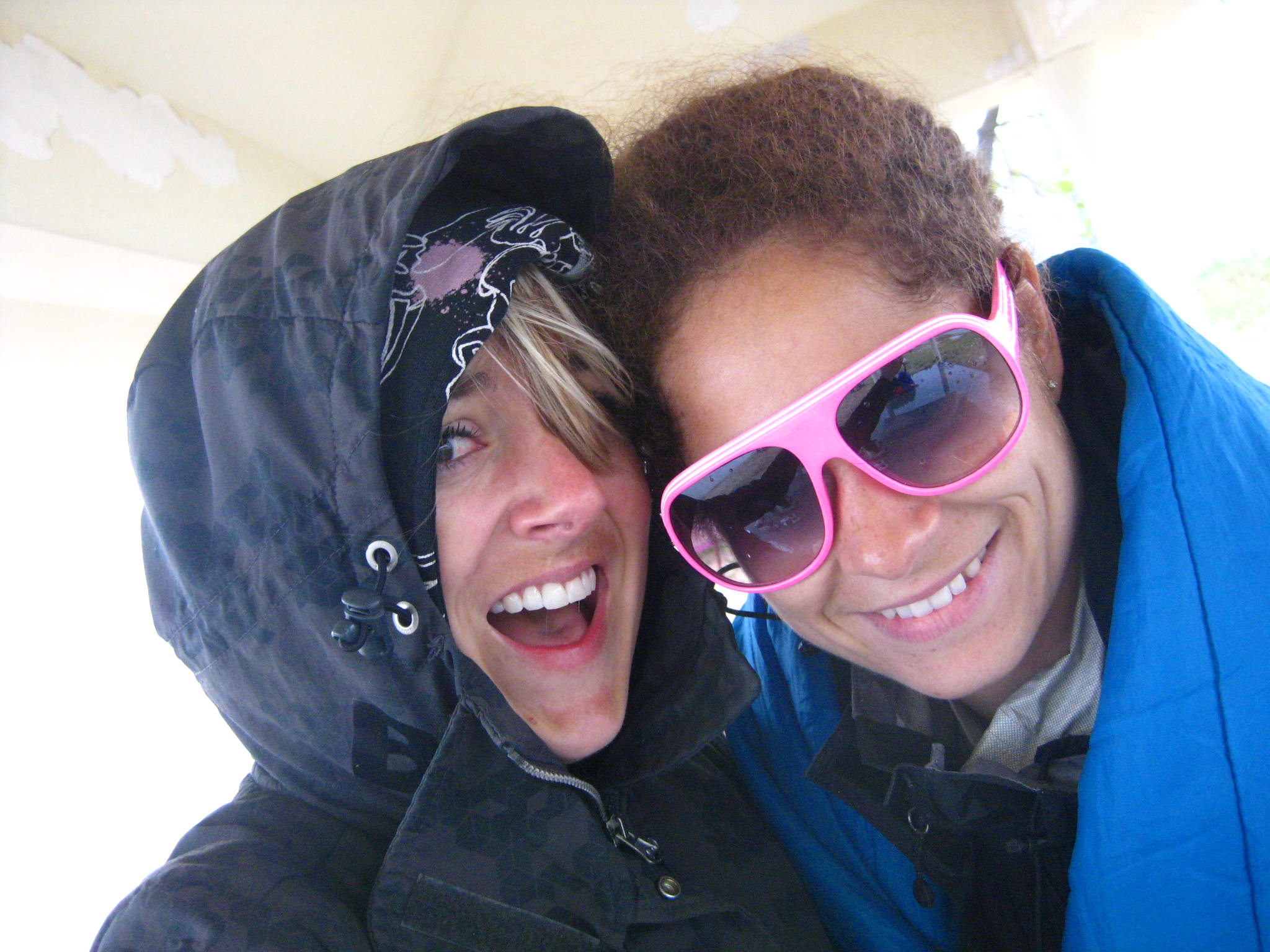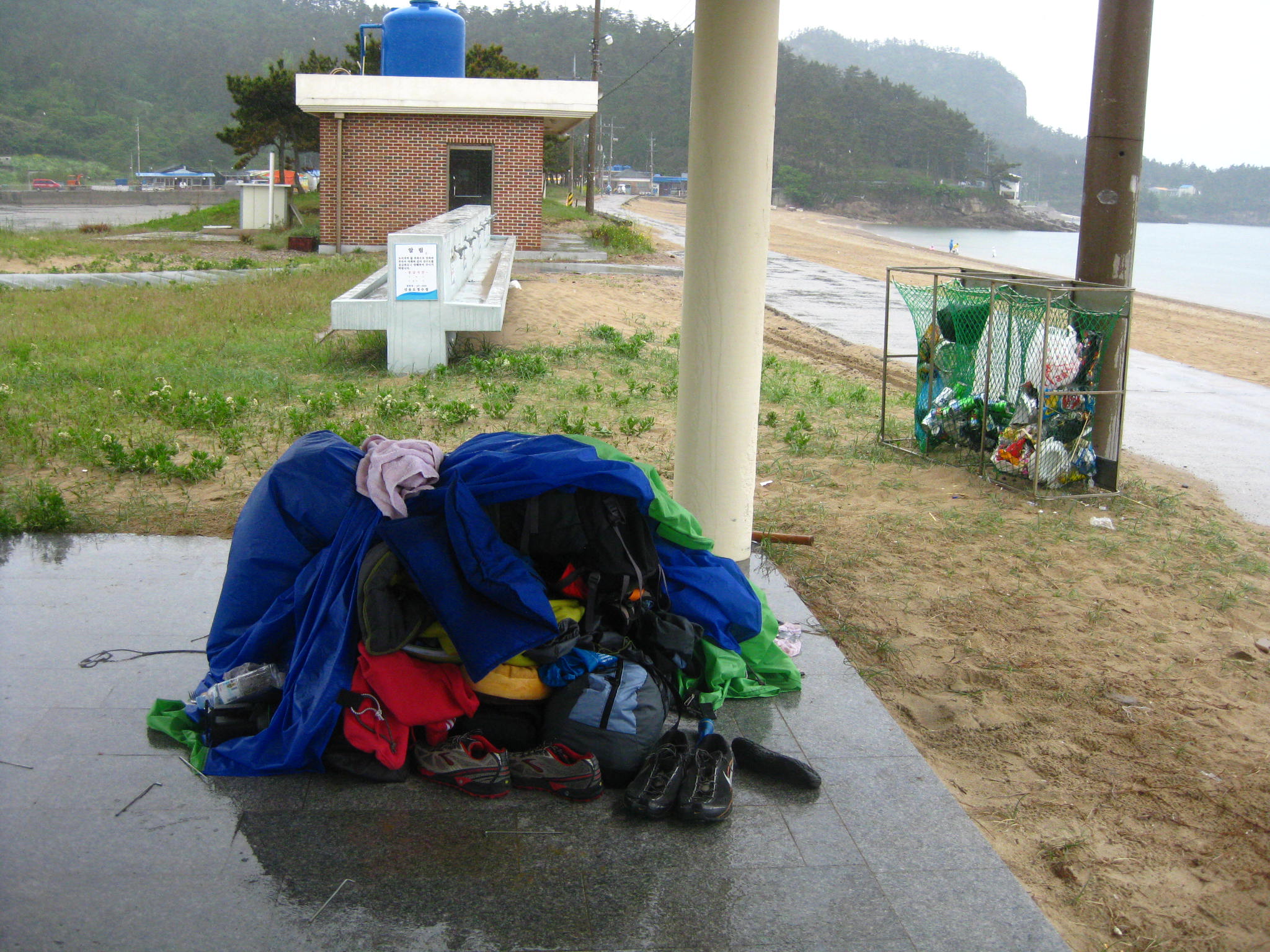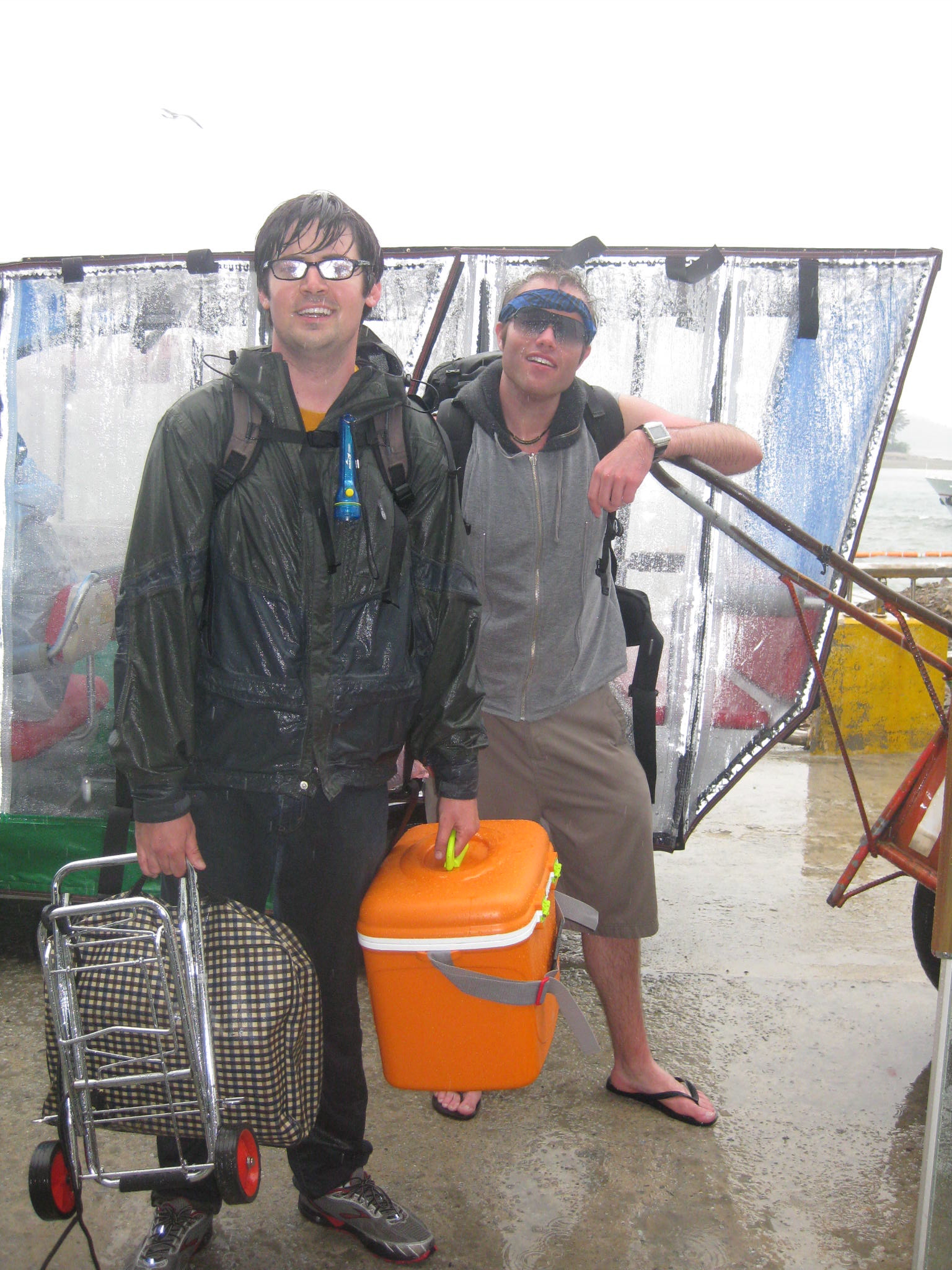 Haha. We made it!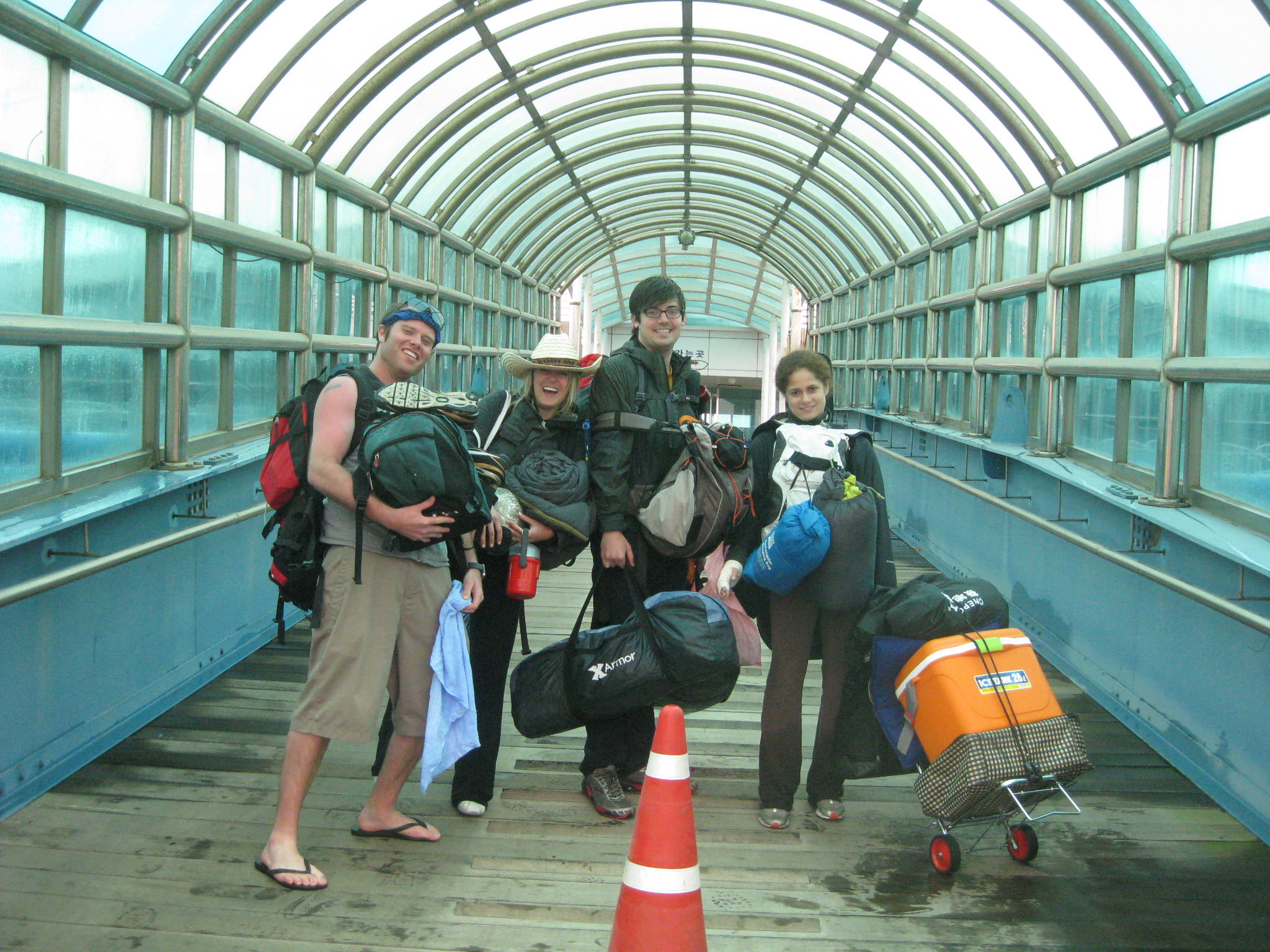 We were soaking wet. Our toes had turned to prunes. And when we finally walked off that ferry, we sure as hell didn't feel like getting on a 3 hour train back to Seoul. Love motel? Don't mind if we do!
And the Land of the Love Motel did not disappoint. It provided us with a new experience – the room we booked had a bathroom… without a door or wall separating it from the rest of the room. And there was a glass (glass?!) cubicle surrounding the toilet. Of course. It only makes sense?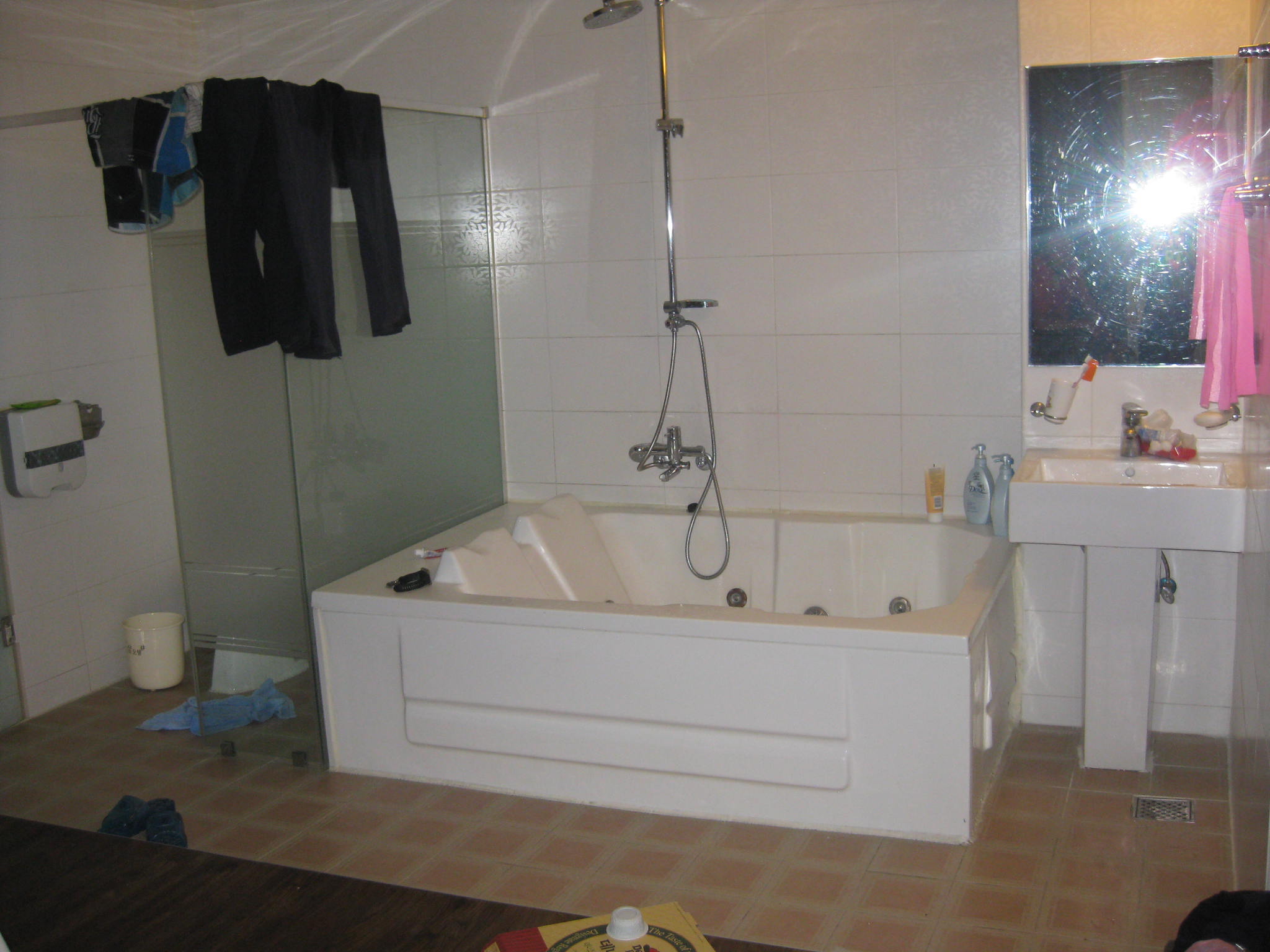 Don't mind if I shower in the middle of the room, do you? Ahh. Ha.
In all, it was quite the experience. Thank you Land of the Love Motel, thank you Seonyudo, and thank you Buddah for the interesting long weekend. No thank you Evil Ahjuma, you are the worst person alive.