"That is the charm of a map. It represents the other side of the horizon where everything is possible."
- Rosita Forbes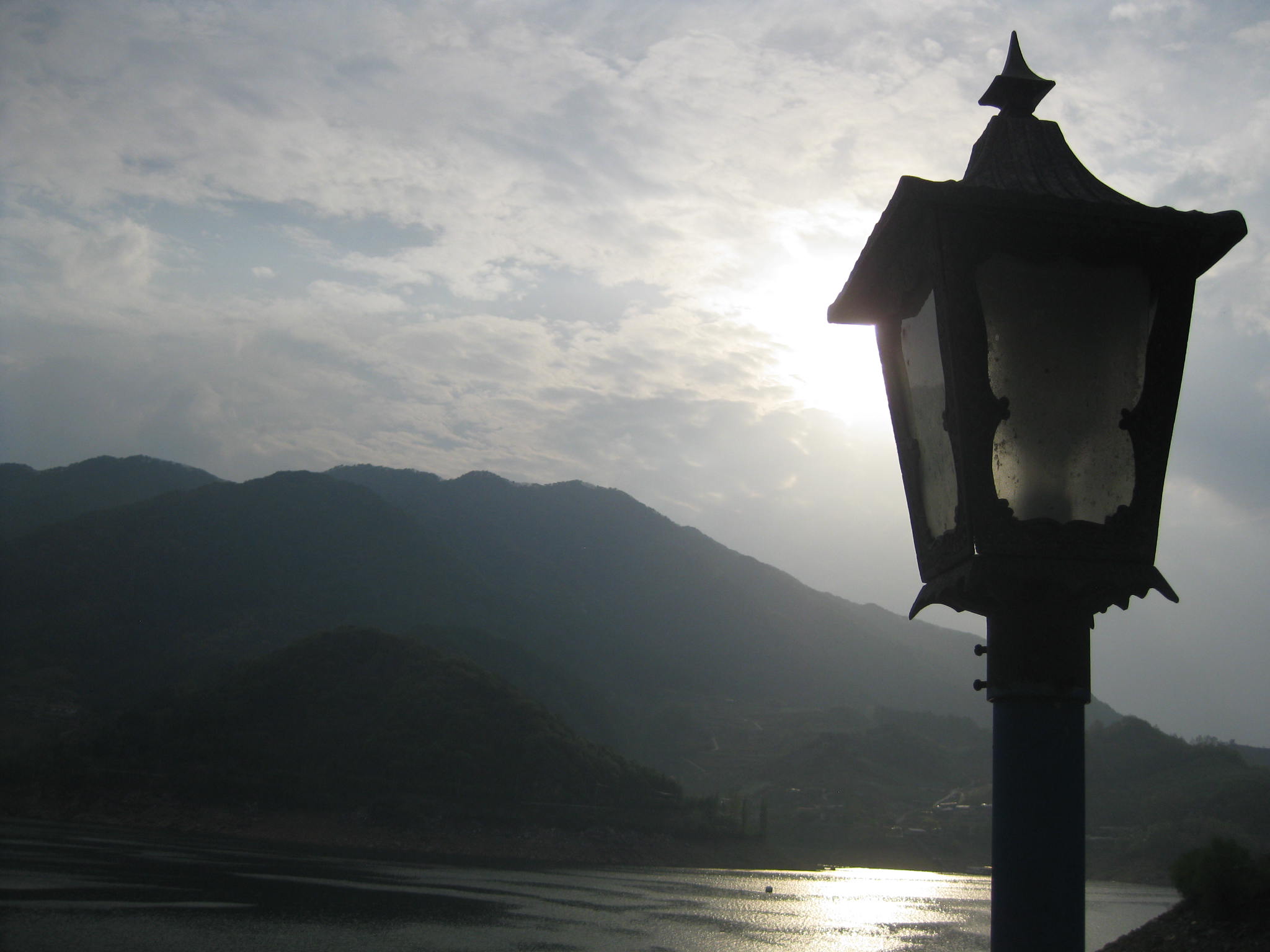 Aside from also being Cinco de Mayo, Korea celebrated Children's Day on Wednesday May 5th. It's a national holiday and none of us had to work. Having no plans other than wanting to get out of the city, Melissa and I took to our map of Korea and found ourselves pointing to the middle of the country, at the biggest lake we could see. "Let's go there?" she asked. "Done" I said. And so it was done. The next morning we woke up as early as could be expected on our day off (we had planned to meet at 8am which quickly changed to 9am and was then logically reconsidered to 10am). We met at the
Express Bus Terminal
where subway lines 3 & 7 intersect. We'd already discussed our plan the night before. We were going to Chungju Lake.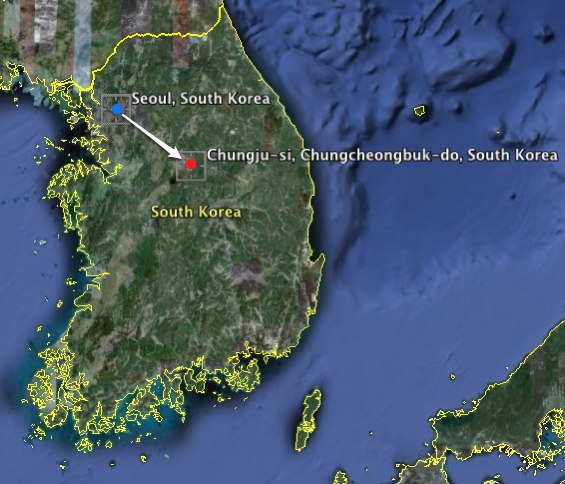 Described to us in our Lonely Planets as a "large artificial lake ... with constantly changing scenery that on misty days looks like a sequence of Joseon-era landscape paintings", we were sold on the idea of boarding "a fast ferry on Chungju Lake for Korea's most scenic waterway trip." Chungju Lake is the country's biggest multi-purpose dam that links together Chungju and its neighborhoods. Yes, yes. All well and good. So, with our guidebooks in hand (not a typical practice of ours, but sometimes we need a little inspiration!), we made our way to the ticket counter. "Two for Ch-ung-ju, please." "Ch-ung-ju?" "Nay" (yes). She took our money and printed off our tickets. Sweet. We had an hour to wait. We bought some coffee and chatted as we flipped through our Lonely Planets and brainstormed for future trips. At 11:20, we made our way to the gate. There was the bus. All limo-like and airconditioned. On the front of the bus was a sign that read in English, "Cheongju". Hmm. We were a little doubtful, but perhaps it was just a different translation from the hangul. Best to double check. We run back to the ticket counter. We're pointing at our tickets that read "Cheongju" and hastening to write the word "Chungju" to make sure she understands the difference. She looks at our tickets, looks at our scrawled letters that read "Chungju", and nods. "Ch-ung-ju. Nay." We sprint back to the bus. Phewf. We made it. Bus pulls away. We're still a little doubtful, but hey, we're getting out of the city. An hour goes by. We're starting to think we should have shown the woman the name of our destination in Korean. An hour and a half later. Bus stops. We look to see if everyone gets off. They do. Welcome to Cheongju, ladies! Crap.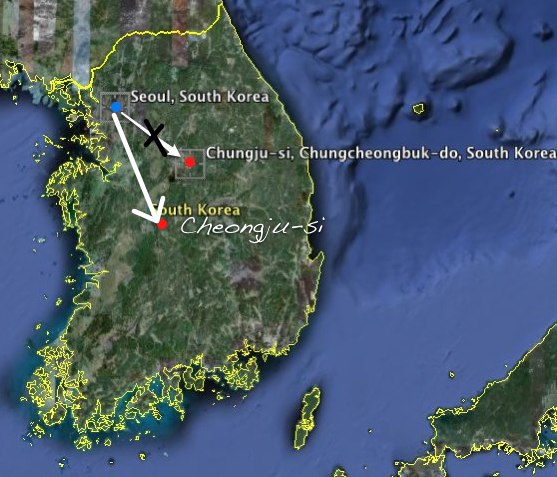 So much for going to the lake. All Cheongju had to offer was more city. The whole idea of today was to get out of the city. Fail, Kristina and Melissa. Fail.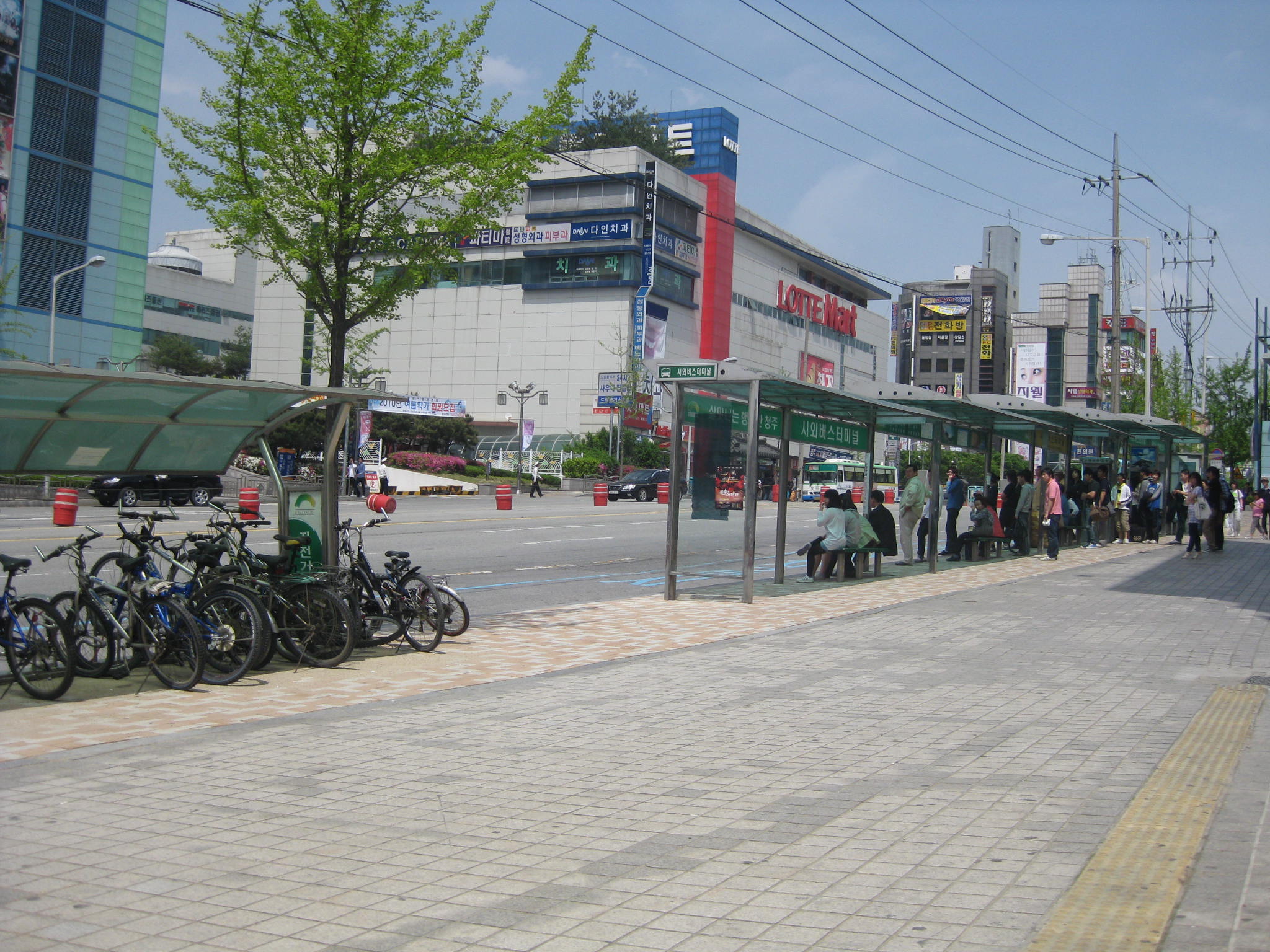 That's it. We've been here 10 minutes and we've read that we can experience great "historical sites" as well as a "popular pedestrianised shopping precinct and the lively Chungdae Jungmun student district." Thanks for coming out, Cheongju, but we don't want to see you. We've seen the outside of the bus terminal and we are through. That's it, it's sunny and we want a lake. We want a ferry on a lake, and we want trees. Trees, for crying out loud. Show us a tree. Back on the bus. And this time we're going to do it right! We showed the lady at the ticket counter the name of Chungju in Hangul: 충주. NOT Cheongju: 청주. It took us 3 and a half hours and the equivalent of $20 what should have taken 2 hours and $7. Haha. But we got a scenic tour! And who can complain about that, right? ;)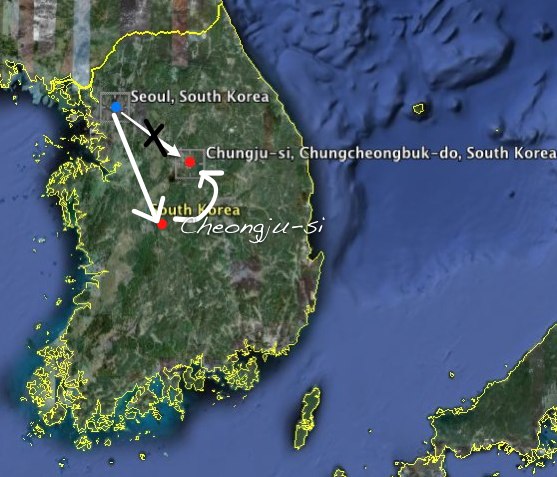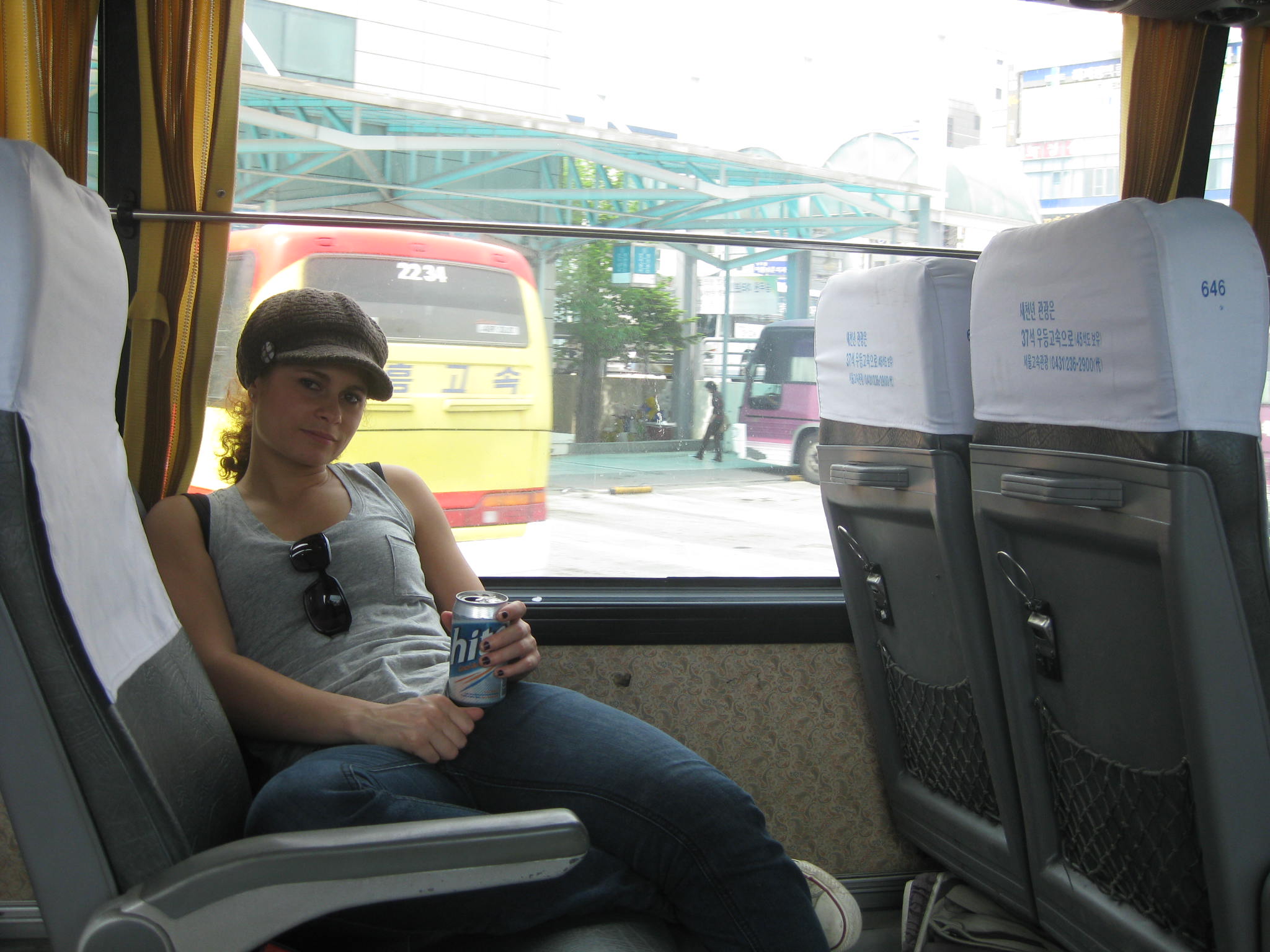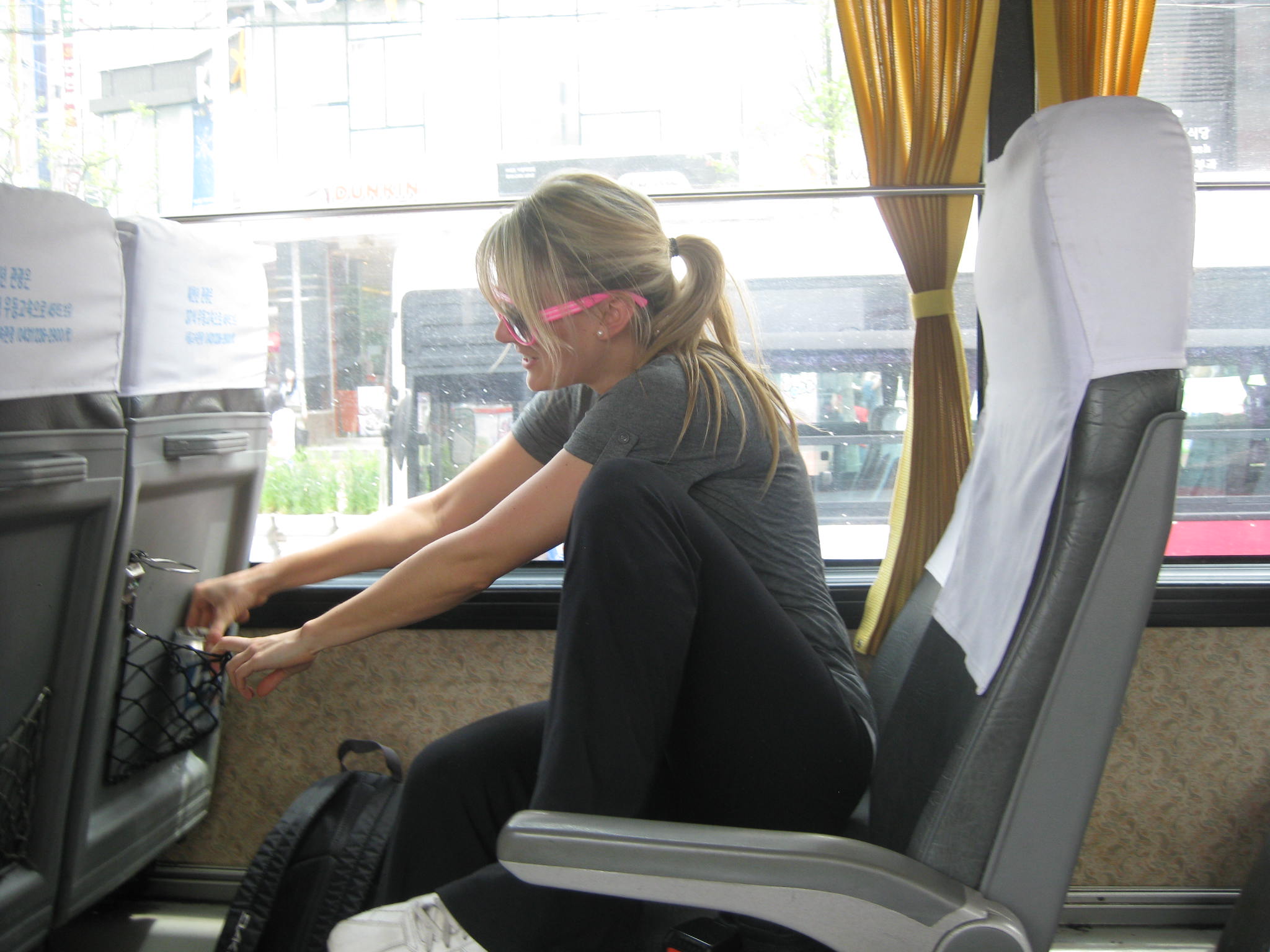 Finally! Welcome to Chungju!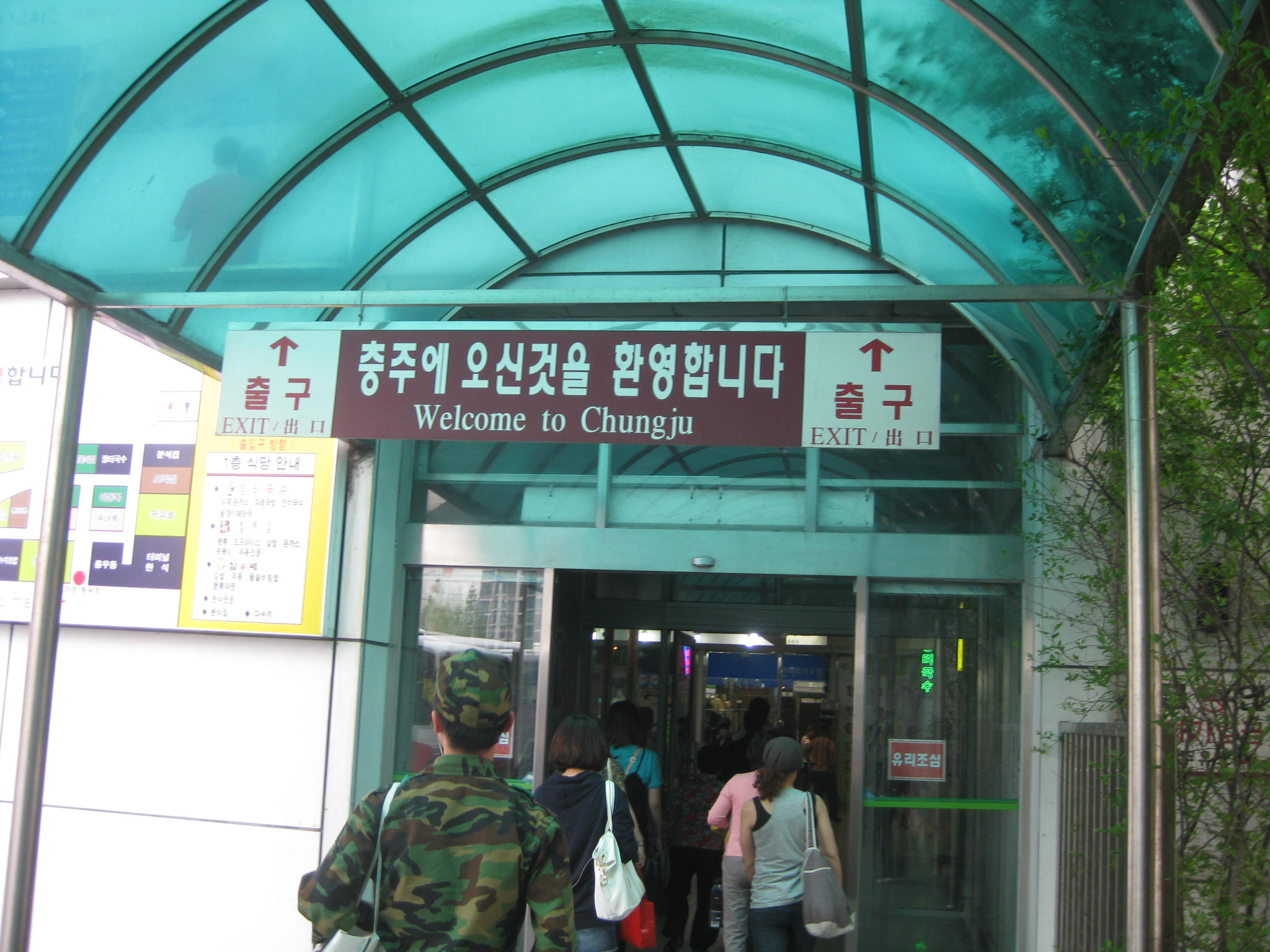 Now, where's the lake? Luckily we didn't have to wonder this for long. We wandered into the tourist information office at the bus station and found out that the ferry terminal is served by bus #301 (30 minutes,
₩950
), which leaves across the street from the bus terminal. Make sure you enquire here for for schedules (and whether the boats are running) as there are only 9 buses a day. Anyway, for us it didn't really matter, as the second we left the tourist office, we were accosted by a very nice, very outgoing, young Korean man. We became friends immediately because we didn't know where we were going and he wanted to practice his English. "We want to go to the lake," we said. "Okay, I'll take you!", and Nice New Korean Friend hailed a taxi and we all piled in. The cab price for this ride was astronomical. In Seoul, you can get around town for cheap. I've spent an hour in a cab in the city and the price has never gone above 20,000 won. This 15 minute ride cost us 19,000 won. Whatever. We were at the lake!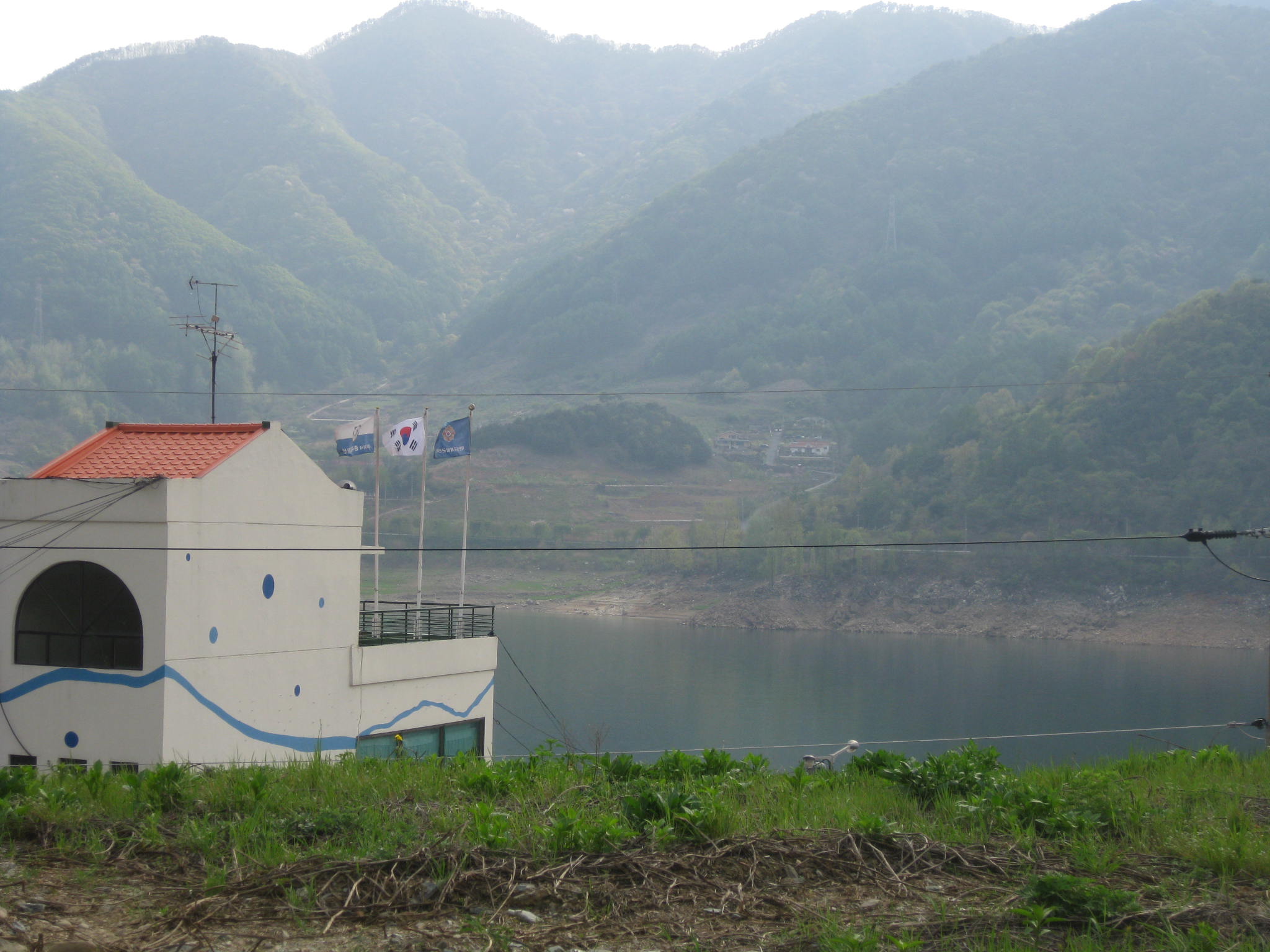 The ferries were sold out until 5:40. Of course they were! (Chungju Lake Ferry Information: (043) 851-5771~3 | Seoul branch office: (02) 532-3274~5). We had another hour and a half to wait. What do we do? We find some pints in the tiny concession store and some ramien noodles from the restaurant and we get as far away from the crowds as we can with our bowls of hot soup. Nice New Korean Friend thought we were all sorts of insane, but he tagged along anyway. "You Canadians hike hills with bowls of hot ramien? I think you crazy." Haha.
We ate our noodles and drank our beer and waited for our ferry to arrive. It cost
₩10,000
and took about an hour to do a little tour of the dam. It was worth the trip, the headache, the extra money. It was beautiful out there, and it felt good to get out on a boat again.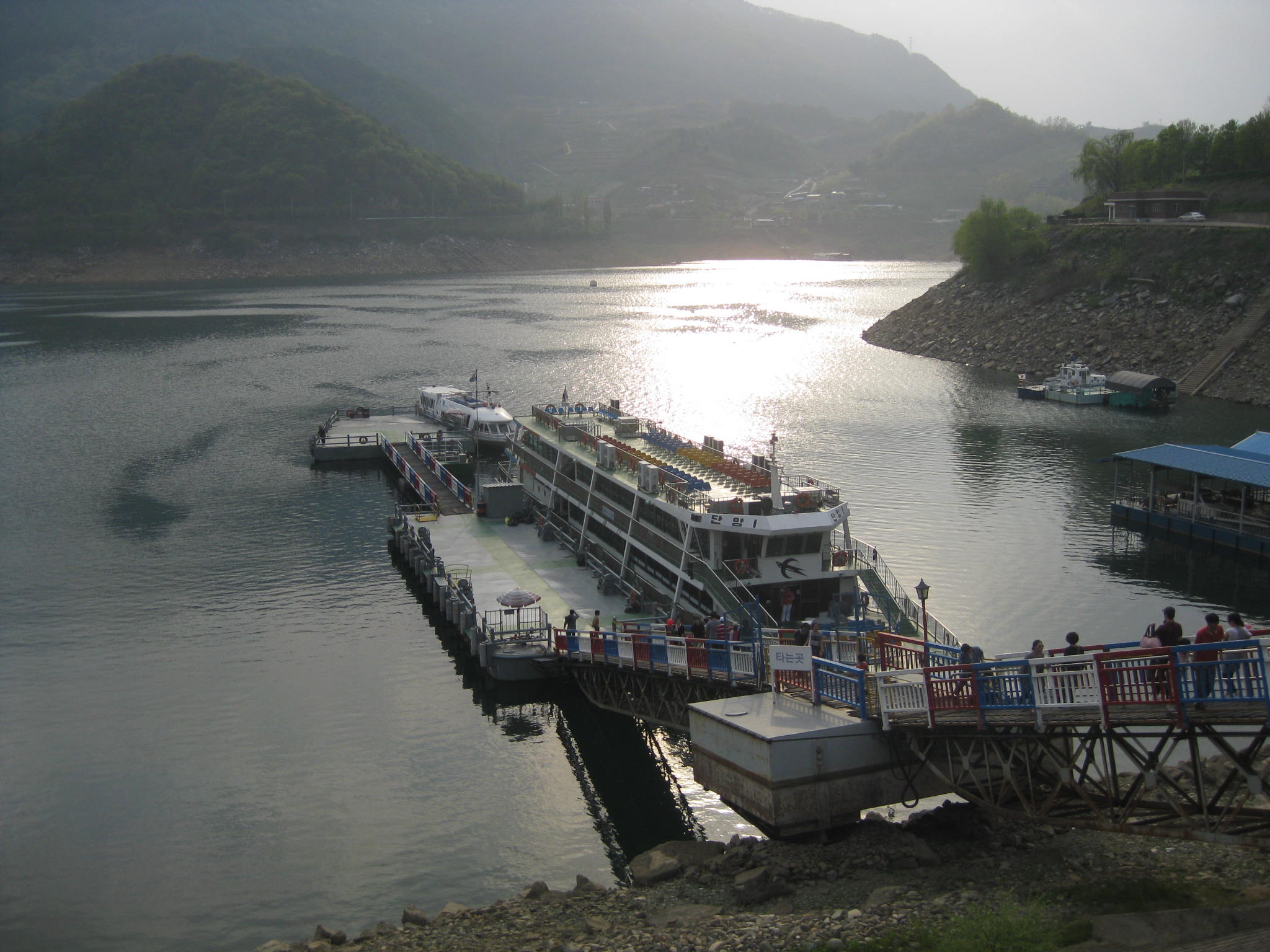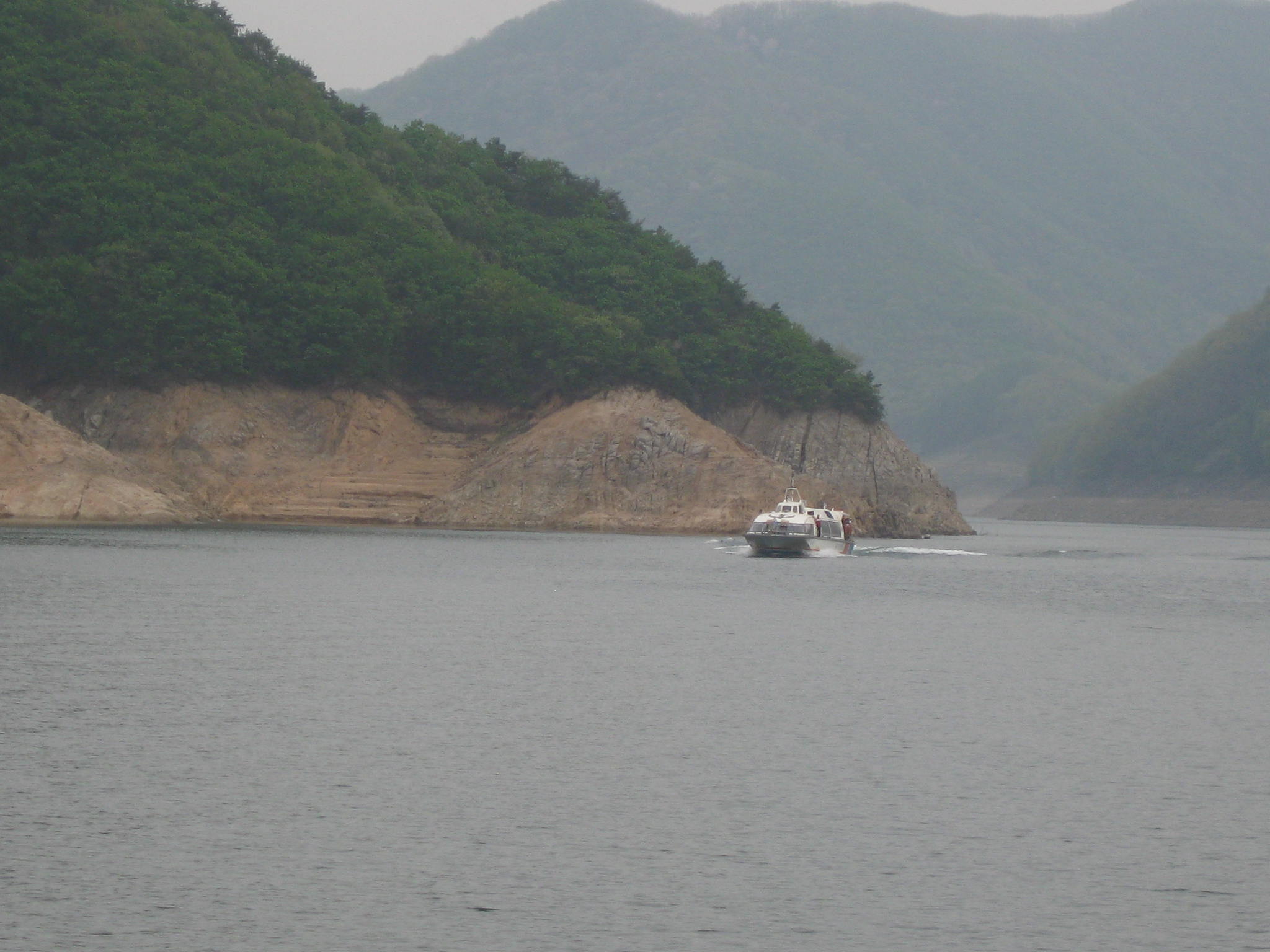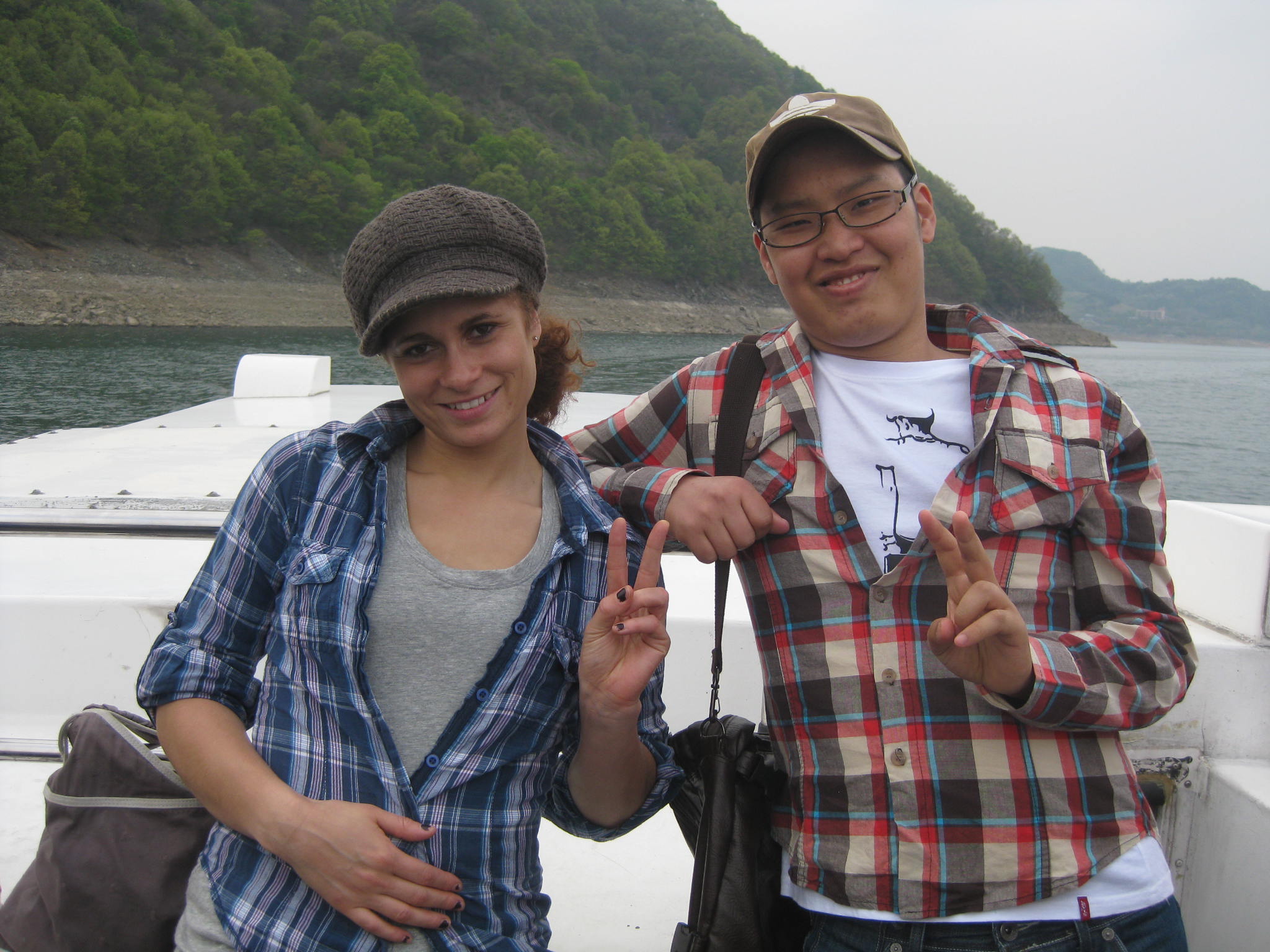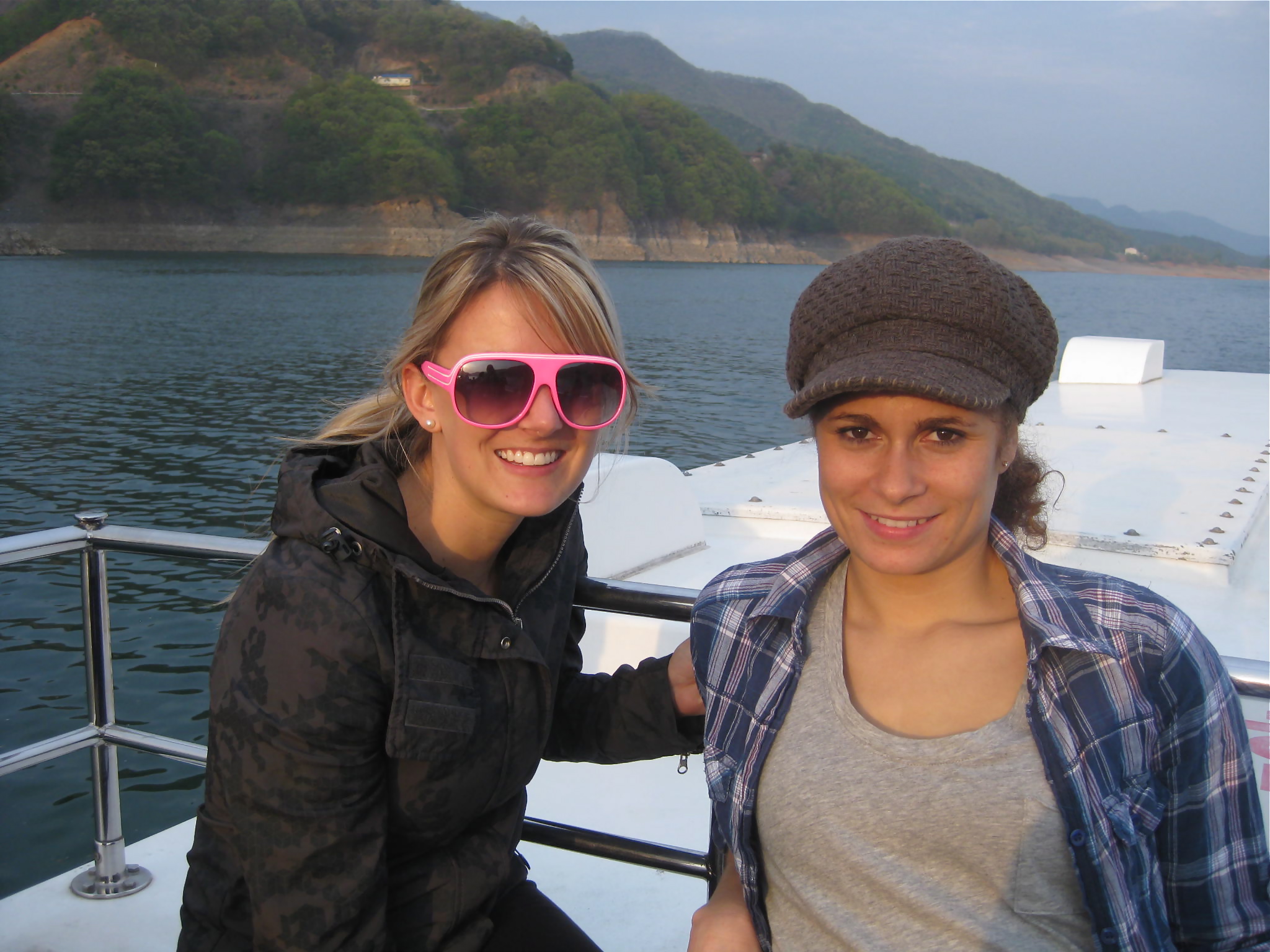 The people in this city are so different from Seoulites. Most obviously is the way they dress. They're not worried about name-brand purses and top-of-the line clothing, and, -gasp- most of the women on the boat were wearing flat shoes! ;) Most notably is how friendly they are. As we were waiting for the bus to take us back to the bus station, a nice older Korean man slowed to a stop as he walked by, and asked us where we were going. He immediately gestured to his car and nodded and smiled and said he'd be delighted to take us there. He wouldn't accept a single won. I definitely recommend this little trip. If you do it right (achem!), it's a pefect day trip from most parts of the country. And, if you're lucky, you might even run into Nice New Korean Friend and Nice Older Korean Man. :)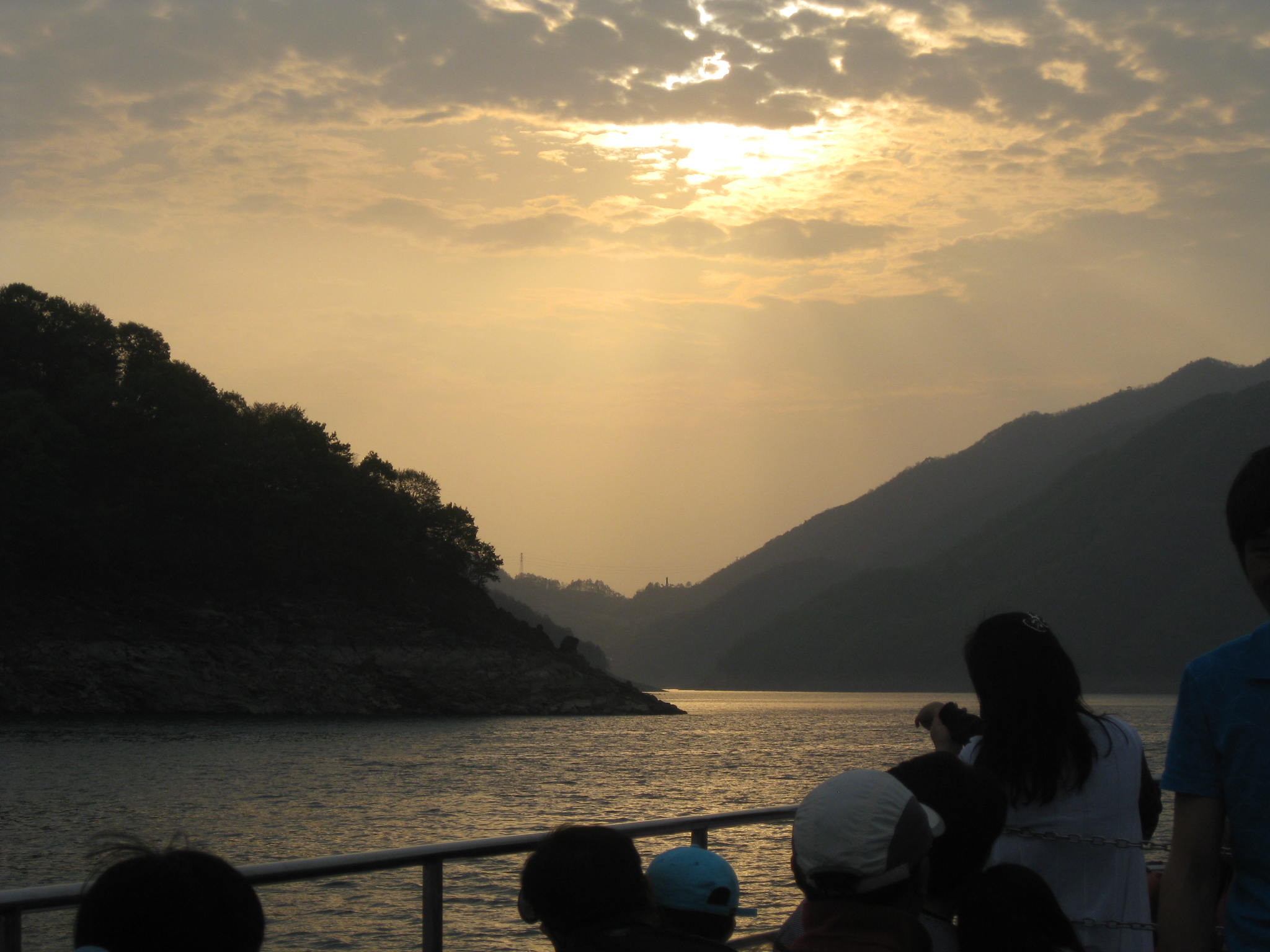 There's lots more to see in Chungju, and if we'd had the time we would have explored the limestone caves, the hotsprings, the wakeboarding option, and maybe even the bungee jumping. We may come back for more later - but next time, we'll be sure to remember what we learned: our pronunciation sucks, and nobody understands us. ^^