Dae han min guk!
대한민국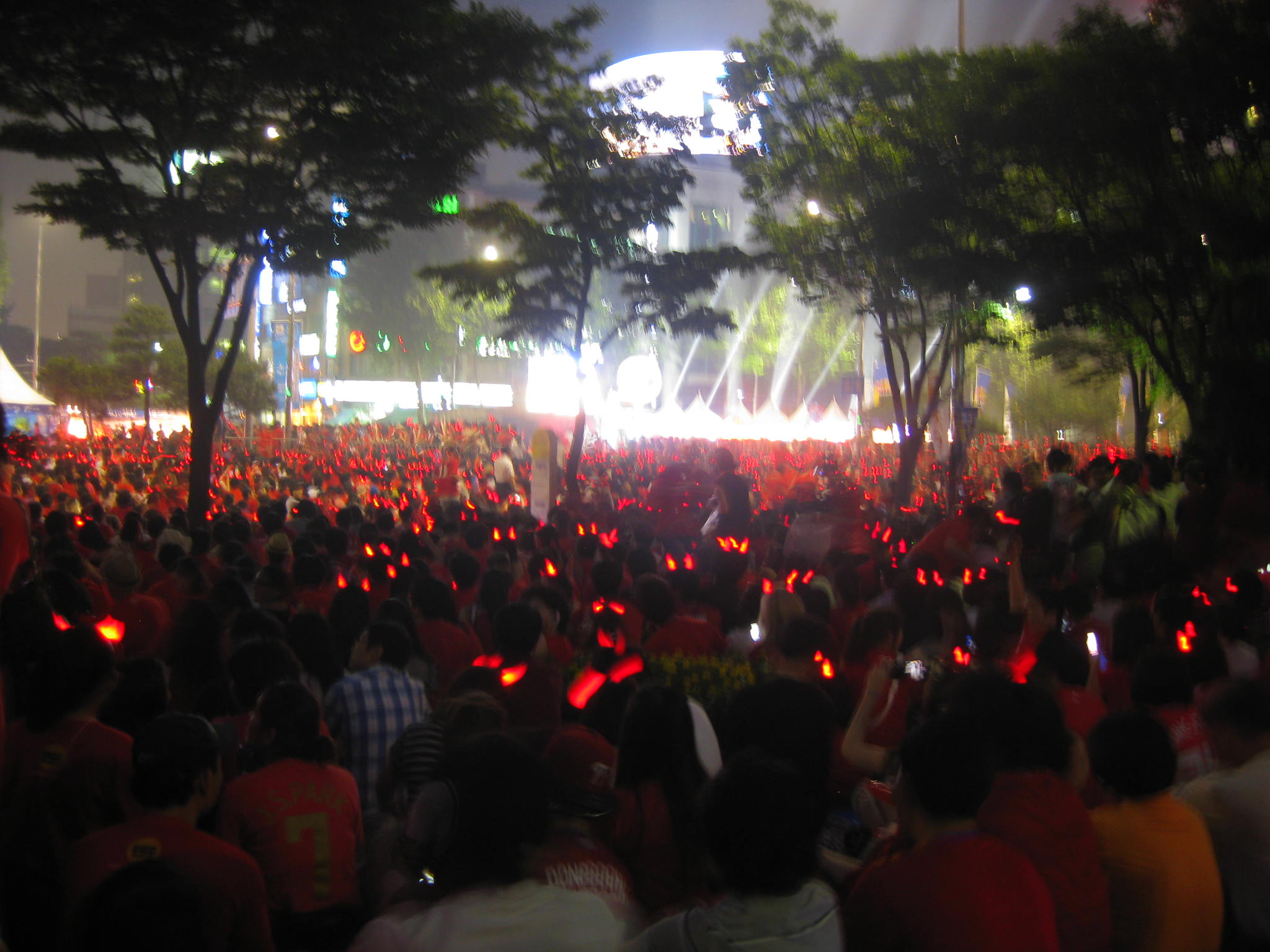 As the sun falls in the sky, ladies adorned in red shirts and devil horns set up folding tables on the sidewalks. Men with Korean flags draped over their backs and girls with blushing faces painted red white and blue pass over the cooling concrete, swarming the streets in a mass migration to the big screens at Coex mall. The city is alive with chants of "Dae han min guk!", as the people of Seoul prepare to stay up all night in support of South Korea's 3rd, and possibly final, world cup match against Nigeria.
It's 8pm on Tuesday, June 22nd. The game starts at 3:30am (that's right, in the middle of the night), and the streets are alive as if the game were at noon on a Saturday. Football fever is everywhere in Korea, and the fans are devoted like nothing I've seen since Kim Yu-Na skated for them in the 2010 Olympics (and I'm not even sure they're over that yet).
South Korea played their first 2010 world cup match against Greece on Saturday June 12th. My parents happened to be in Korea, and the three of us happened to be in Busan for the weekend. My mom happened to book an amazing hotel on Haeundae beach, which just happened to be 20 meters away from a huge screen on the beach. In perfect Korean randomness, the world cup match was to be shown on the same screen as an Opera, immediately after the opera finished. So what we had was an opera crowd surrounded by football fans, which couldn't be more awkward, or more hilarious.
Needless to say, the opera was cut short as the football fans crowded the area prematurely, devil horns ablaze in the twilight. My parents and I had purchased a small blanket and had camped out there with a bucket of chicken and a couple bottles of wine for the better part of the evening (classy right?), so not only did we get a nice complementary opera performance, we also had perfect real estate for when the football match began. And I've gotta say, there is nearly nothing comparable to watching a world cup game on the beach in a country with 500,000 passionate fans. Nothing, perhaps, aside from being on Berlin's Fan Mile during the 2006 world cup, and then again the only difference is that I was standing on a picnic table instead of sitting on a beach and eating bratwurst instead of fried chicken. Oh, and my loyalty shirt was a different colour. ;)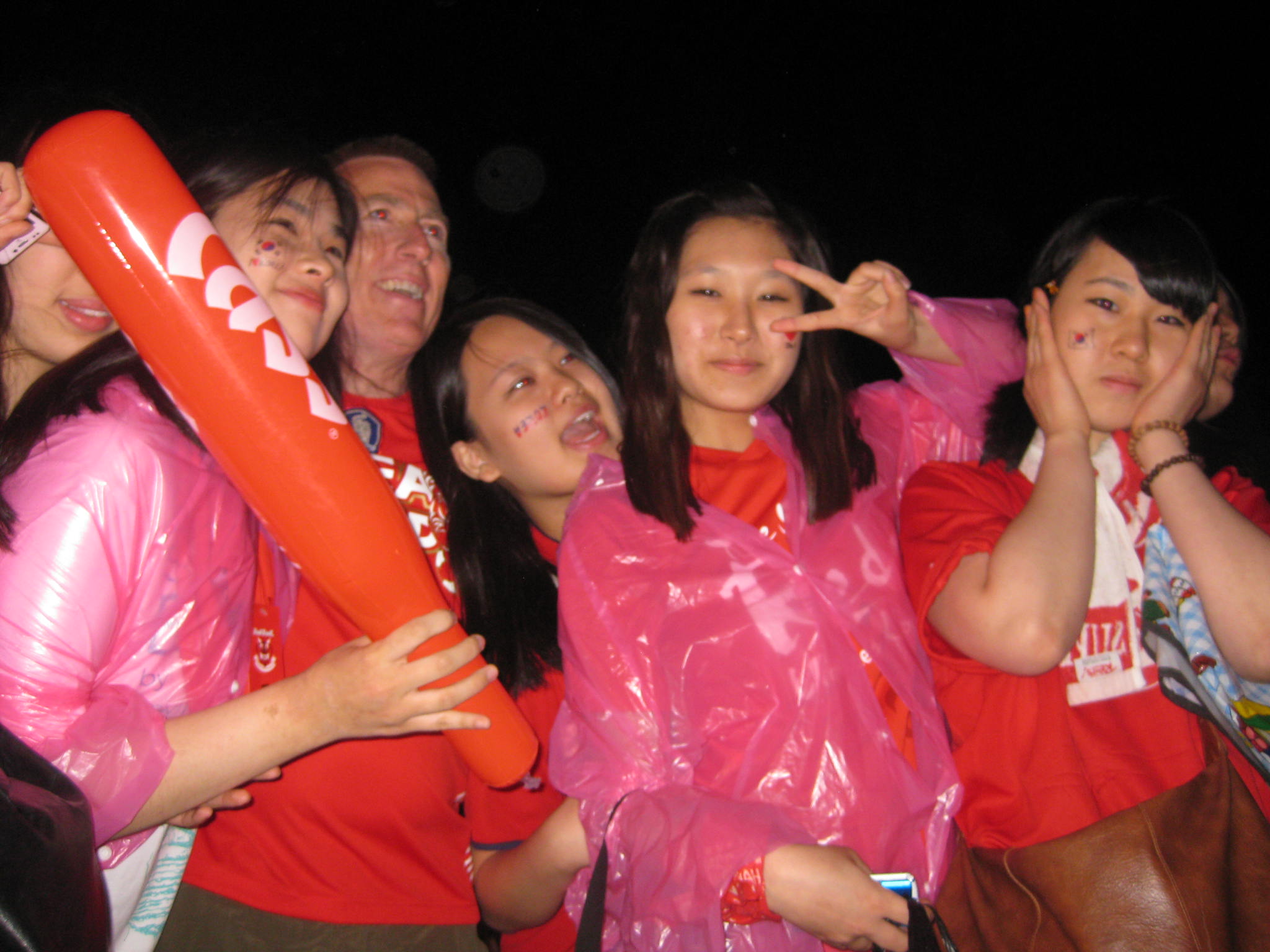 South Korea won the game (!!) and all of a sudden the three of us were celebrities. Everyone wanted a picture with the supportive foreigners, especially my dad. I don't think he was complaining. ;)
Korea's second match was against Argentina last Thursday night. My parents had since returned back to Vancouver, but I went with a few friends to watch the game at Coex mall, just a quick bike ride from my apartment. The outcome was less favourable for the red devils, and moving from one area to another was like navigating through a sauna of sardines with elbows, but that's half the fun.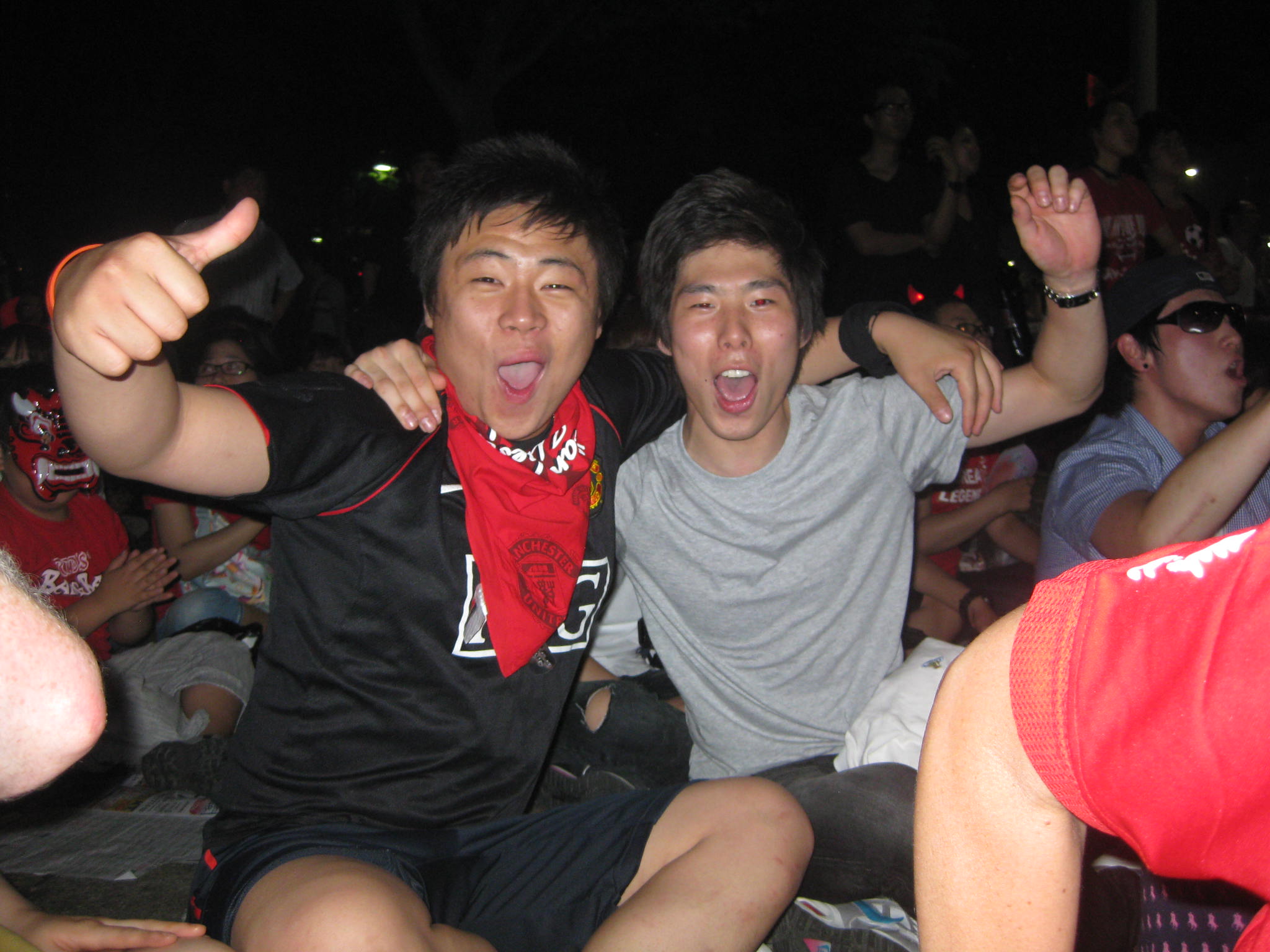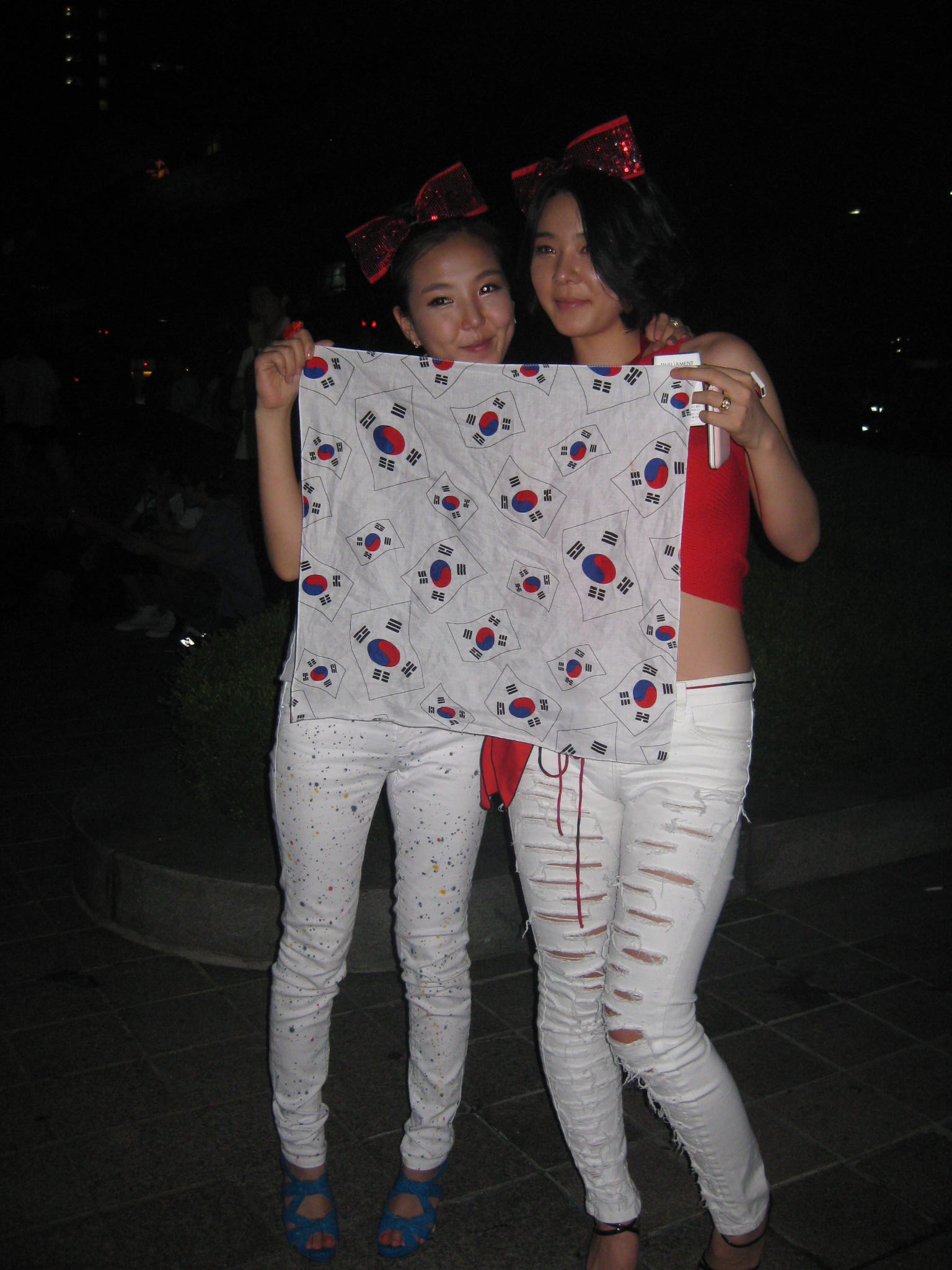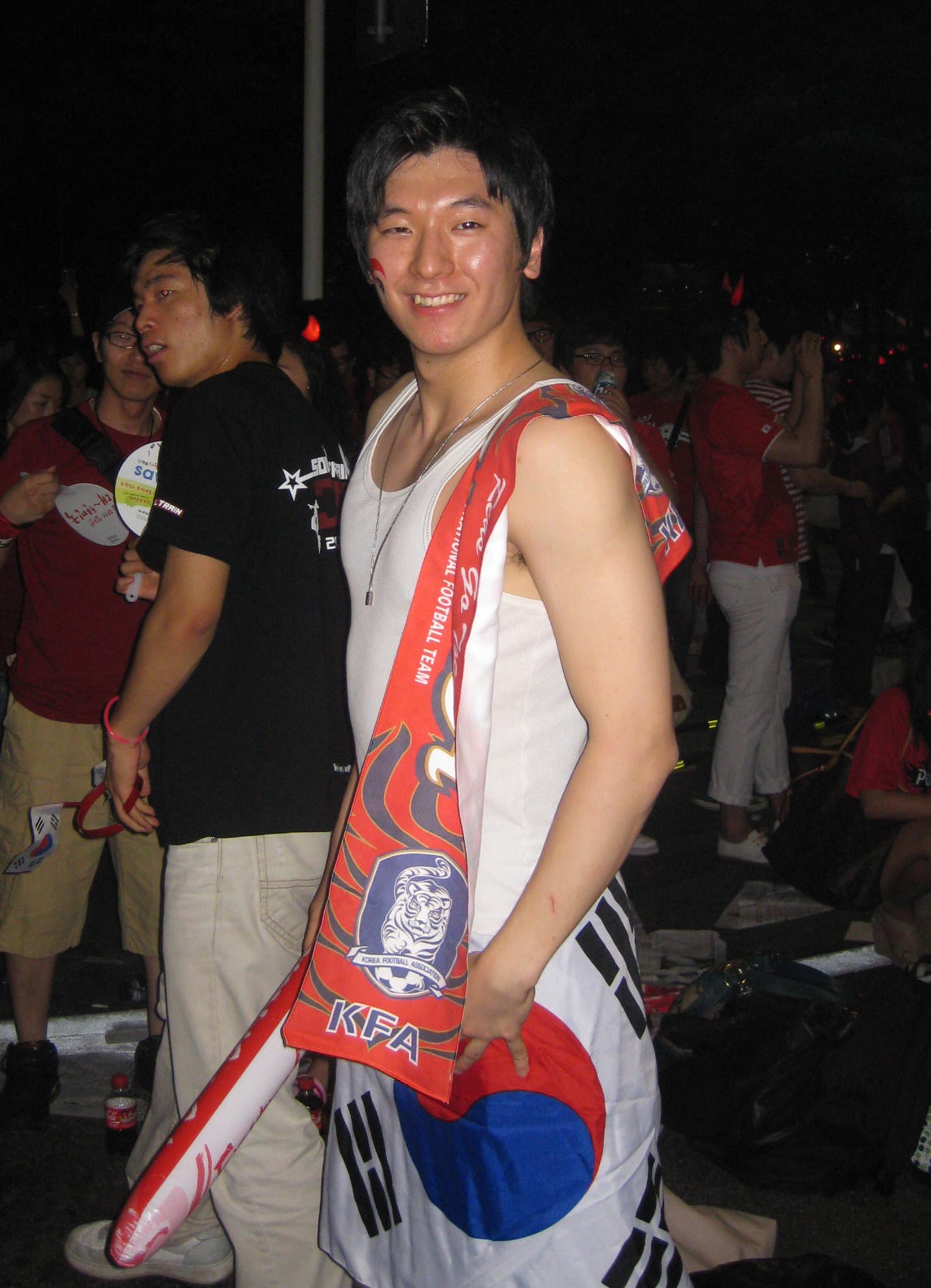 It's anyone's guess what will happen tonight. If I weren't sick and feeling sorry for myself, I'd be out there too, camped out by the big screen on the Han river with 500,000 other fans. But if the swarms of people I witnessed congregating in Gangnam 4 hours ago are any indication, I'll probably be able to hear the outcome without even leaving my apartment. ;)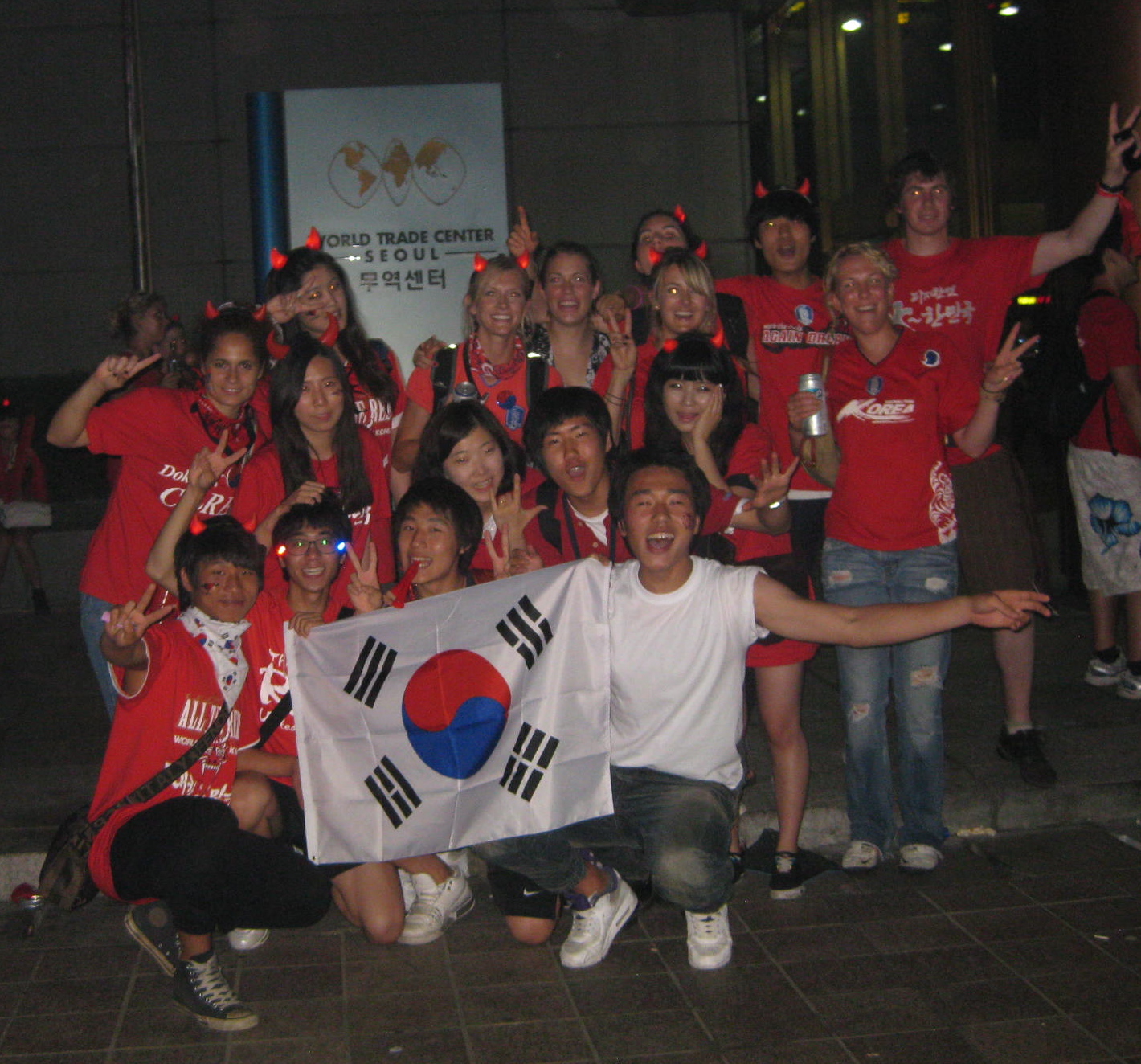 DAE HAN MIN GUK!